Seahawk fans sendoff players to their Wildcard matchup against San Francisco
RENTON, Wash. - The Seahawks have left the nest to take on the San Francisco 49ers in the NFL Wild Card Playoffs - but not without a proper goodbye from the 12's. 
A group of ride-or-die fans came out to give their beloved team a boost.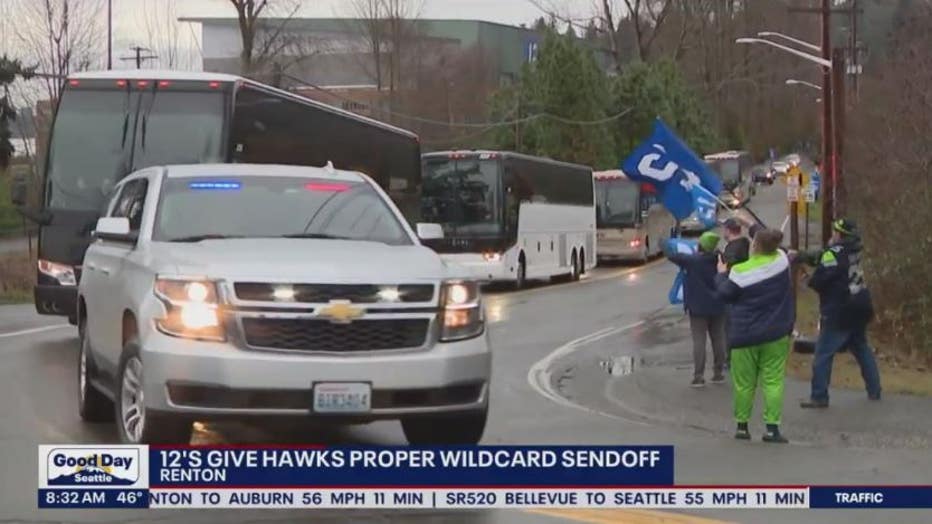 The 12th man was out in force at the Virginia Mason Athletic Center to see the team off to their wildcard matchup against San Francisco.
This was a season when nothing big was supposed to happen for the Hawks, which makes this departure even more special.
4-year-old Dahnahhi is a new addition to the flock of fans gathered for today's sendoff.
RELATED: DeeJay Dallas, Shelby Harris active for Seahawks against 49ers
He has not seen a whole lot of games, but what he doesn't have in experience he makes up for in enthusiasm. "I like them scoring, and they have their own ball," said Dahnahhi. "Touchdown Seahawks!"
Standing nearby is a veteran 12, who is just as excited to see the team fly again in the post season. Terri Fletcher, President of Kirkland Sea Hawkers, said, "We've been doing this for probably 20 years. It's just a little extra thing that we can do to help support the team! It's kind of surprising that we're all here today, and we're pretty excited about that, never count this team out." 
Terri is a member of the Kirkland Sea Hawkers – and like many in the club, she says she hasn't missed a game in about 30 years.
"It's pretty unlikely to sweep somebody 3 games," said Terri. "I just saw an eagle fly by, I'm taking that as a good notion." Terri remains hopeful. "As Pete Carroll says, it's not how you start, it's how you finish." 
The clouds were all doom and gloom, but this crowd of blue and green did their best to shout away the gray. The Kirkland contingent is one of 12 different Sea Hawker chapters in Washington State. There's 18 more spread out across the country. All of them pulling for the hawks to pull off another upset win!
"Their growth – I mean they started off great, and then they had a little low, because we had injuries," said Sarah Saint John, another Seahawks. "We showed them in the last two games how strong we are, so we are confident that we will win, we're so excited." 
RELATED: How to watch Seahawks vs. 49ers live: Super Wild Card Weekend on FOX
At last count, there are 9 international Sea Hawker chapters. A win this weekend may recruit even more.