Seahawk Bobby Wagner helps Seattle-based Oberto celebrate 100 years in business


SEATTLE --  A big, beefy linebacker helped celebrate 100 years of beefy products in Seattle on Tuesday.

Seahawks linebacker Bobby Wagner made a surprise appearance at a Seattle institution, the Oberto meat products company, for its 100th birthday party.

He was there to greet fans, snap selfies and group photos, sign a few autographs and sell beef jerky.

Serving as a cashier at the Seattle-based Oberto's Rainer Valley factory store, the Super Bowl champ and four-time Pro Bowler took time out from sacking opponents, to sack a few packages of beef jerky.

It didn't take long for fans to hear about the big bash.   Dozens of people, decked out in their favorite Seahawks gear, waited patiently for their turn, in a line that went out the front door and down the street.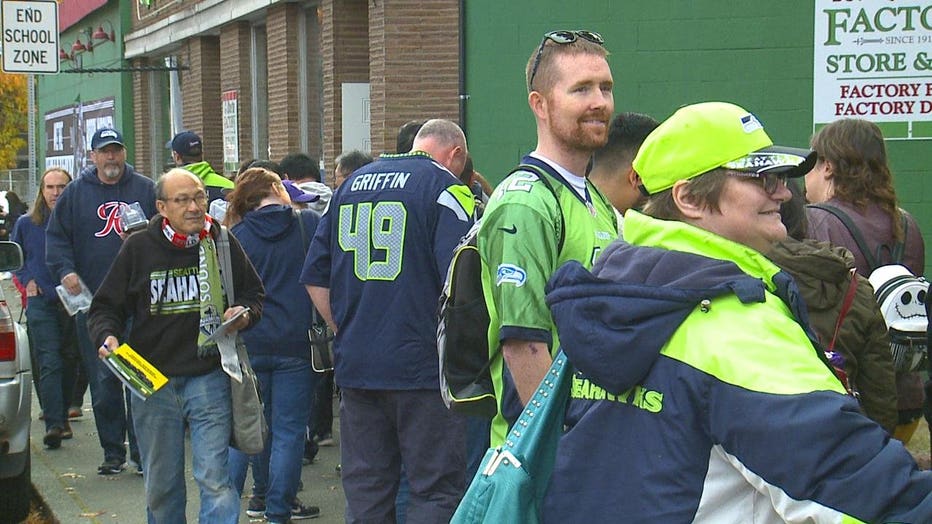 "We thought it'd be a great opportunity to connect with the local community," said Stephen O'Hare, Director of Marketing at Oberto.  "We've all been big fans of the Seahawks for a lot of years and been partners with the Seahawks for a number of years and we thought it'd be a great opportunity to have Bobby come over."

Oberto started out as a family business in Seattle in 1918.  Over the years, it's played an active role in the community, with involvement in Seafair, sponsoring hydroplanes, and being a big part of Seattle.

"It's a great organization, the things that we've done with the community over the years has been fantastic," said O'Hare, who has been with the company for the last four years.  "From Seafair, to things that the family has done in the community, it's great to be a partner with Seattle and a partner with the community."

Despite being around for an entire century, the company still relies on innovation to stay fresh.  This year it created a new "Founder's Reserve Pale Ale All Natural Beef Jerky," after scouring the company's archives and finding some great recipes created decades ago.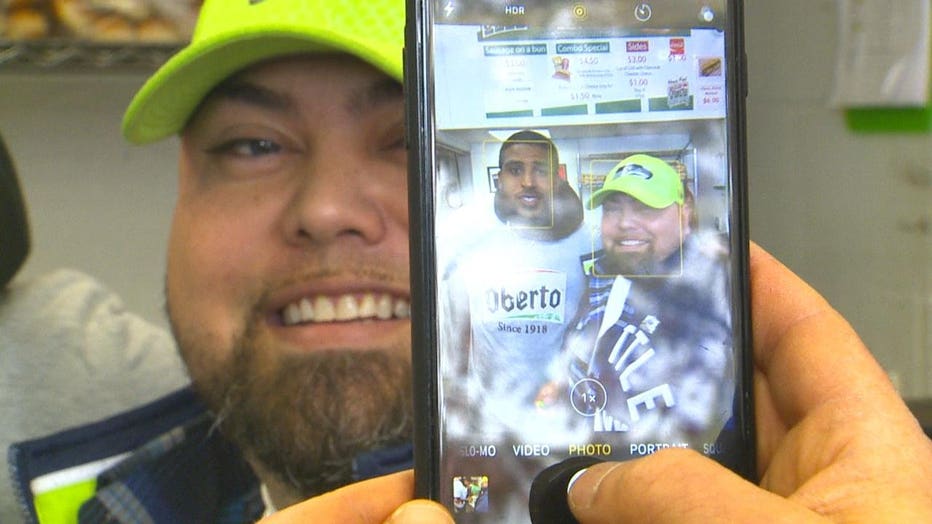 To celebrate turning 100, and to thank the community for its century of support, the company sold bags of its 100th Anniversary Old Fashioned Beef Jerky, starting at one o'clock, for 100 cents a bag.  But only for 100 minutes.

"It's usually seven or eight dollars a bag," O'Hare said.  "We thought it would be an inexpensive way for some people to celebrate with us."

And its partnership with the Seahawks, like its beef jerky, just comes natural for the century-old makers of jerky and pepperoni sausage.  O'Hare credits that, for the big turnout for today's birthday party.

"There's nothing a Seahawk won't do here in this town,"  O'Hare said.  "You know, the news that Bobby Wagner (would be here),  I'd like to think that jerky played a role in this as well, but we know that having Bobby Wagner here really excites the fan base."