Sea-Tac Airport's new Concourse D Annex to relieve long waiting times for airline passengers


SEATAC, Wash. -- Sea-Tac Airport is hoping those long waits to get on and off your plane will soon be a thing of the past. Thanks to a brand new addition to the airport, where you'll board a bus to get to and from your plane.

The airport currently has a shortage of gates. And that translates into long delays for travelers.

Those who have sat on planes for a half-hour or more, while waiting for a spot to deboard, are likely familiar with this problem.

Soon, that problem will be solved, when passengers will get off their planes, board a bus, then head to the new Concourse D Annex.

"This is a brand new facility that accommodates what we call 'hardstand operations,' " said Lance Lyttle, Managing Director of Sea-Tac International Airport, "meaning rather than wait for a contact gate, which we are very short on right now during peak (times), you actually wait in this facility, you board a bus."

The new shuttle will take both arriving and departing passengers.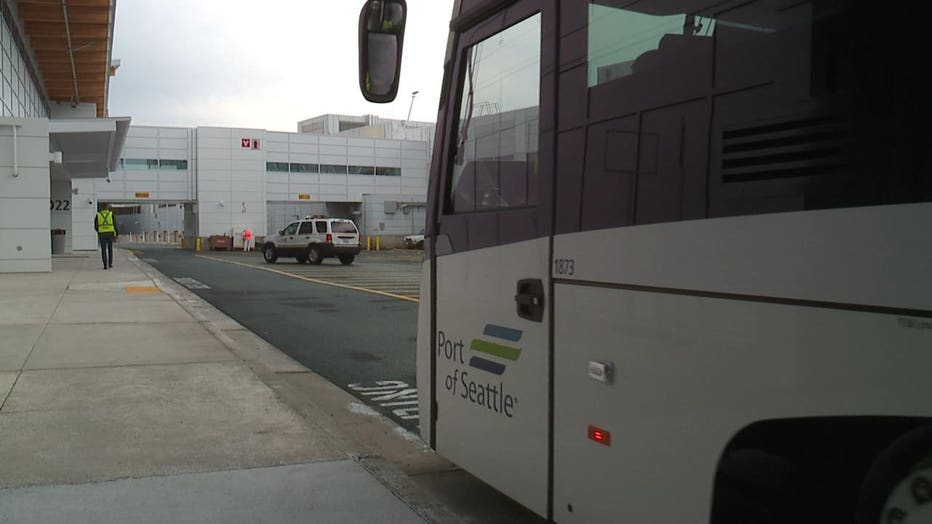 "It would definitely speed the process up," Lyttle said.  "During peak, we just do not have enough gates.  So what happens is we have passengers waiting on an airplane for 30 minutes, 40 minutes, sometimes an hour to get to a gate, because they need a contact gate to get off an airplane.  So with this facility, you don't have to have that wait.  You can just get off the airplane, get on a bus and get inside the terminal."

It'll be a little different, climbing the stairs to board a plane from outside, in what may be windy, rainy or even snowy conditions this winter.

"The bus takes you out to the ramp and you get on the airplane from the ramp,"  he said.  "And vice versa, when you arrive at the ramp itself, you get off the plane on the stairs, the bus takes you back to this facility and you either connect, or you terminate your travel here at the airport."

This week, volunteers are doing a simulation exercise, before they try this with real passengers.

"So we have about 50 volunteers simulating a flight. Once this is finished, my activation manager will make the recommendation that, 'Hey we're good to go,' or 'We have a few more tweaks.  We need a day or two.'  So we're looking at getting this thing done within a few days or maybe less than a week, hopefully.  But it all depends on how our activation exercise goes."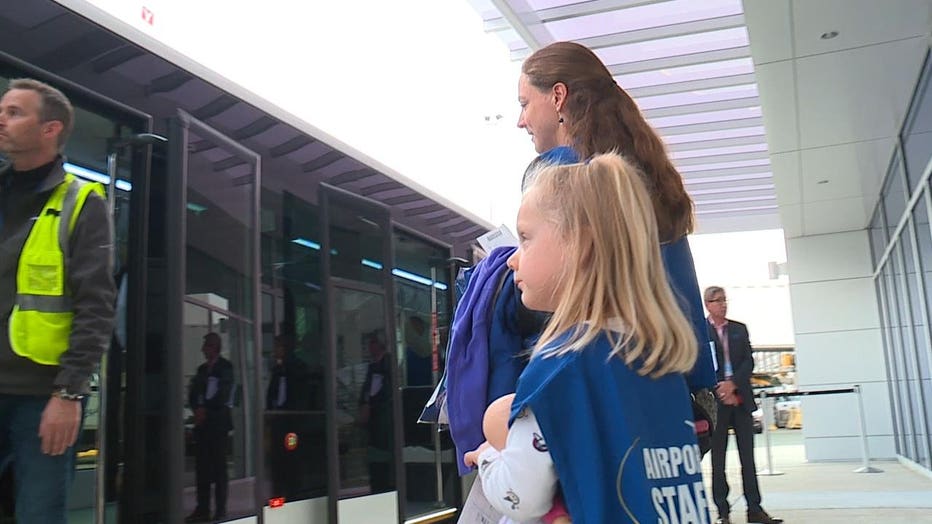 Called a "common use" facility, Concourse D Annex will be open to all airlines, but it's expected to be heavily used by Alaska, American, Frontier and Sun Country.

This new annex will help accommodate the current passenger volumes at Sea-Tac Airport, by providing enough room to hold passengers that six gates could have handled.

Travelers will get to the two-story terminal over a bridge.

A sky-lighted, curved roof structure keeps the annex bright and airy and includes a gently-sloped walkway to the ground level and the departing gates.

And there are electric charging stations, free airport WiFi and concessions.

The volunteers are not just testing the shuttle bus, but everything in the new annex.

"They have boarding passes, or simulation boarding passes,"  Lyttle said.  " So they're going to go through the entire check-in process. They're going to take the bus, to see if there are any difficulties with the bus going around the building. We have concessions here as well, Starbucks and Hudson.  They're going to test everything, the restrooms, you name it. In fact, they're really going to simulate what it would look like if we opened the facility today and we had real passengers coming through."

The total cost to build the $38.4 million facility came from the Port of Seattle's Airport Development Fund, which comes directly from fees charged to airlines.

So where do you find the new Concourse D Annex? It's connected to the current "Concourse D."

"You come through the regular security checkpoint," Lyttle said. "You go to Concourse D.  And then you come across this bridge from Concourse D into the facility. From what we have heard so far, we think we are going to have very heavy usage. We're going to have Alaska, Sun Country, Frontier and American, but it's open to every airline that wants to use it."