Same-sex marriage sets record in King County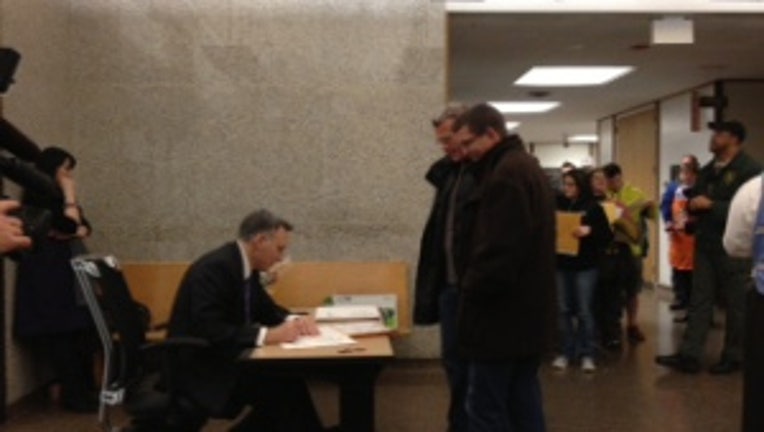 article
KING COUNTY -- With smiles and hugs all around, Gay Marriage became legal in Washington state at 12:01 a.m. Thursday.

Nine hours later, it was breaking records.

Approximately 345 marriage licenses were issued by 9 a.m. According to the King County Executive's Office, the number smashed the previous record of 212 marriage licenses issued in a day.

The King County Recorder's Office opened at 12:01 a.m. to issue the licenses to a large line of couples waiting to wed.  More than 300 people were processed through the line by 4:30 a.m., officials said, with as many as 60 couples per hour processed during the peak.

The county typically issues about 100 marriage licenses per day.

"Everyone from the staff and volunteers to couples, family and supporters helped make this a festive and safe event," said Norm Albert, director of the King County Records and Licensing Services Division. "King County staff are proud to take part in this historic event and meet the increased demand for marriage licenses after voters in our state approved Referendum 74."

At one point in the night, the marriage equality hastag, #MEDayWA, was the number five trending topic on Twitter. As of 2 p.m. Thursday, Pierce County had processed 39 same-sex marriage licenses and Snohomish County had issued 17.

All couples who were issued a license on Thursday will have to wait until at least Sunday to make their marriage official, officials said, as the state requires a three-day waiting period before the marriage is approved. In Thurston County, a group of judges are planning to perform a wedding ceremony at midnight on Dec. 9 for the individuals who secured a license
Thursday.

The King County Recorder's Office will stay open until 6:30 p.m. Thursday night. For information about marriage licensing, visit here.