Same-sex marriage law takes effect in Washington; hundreds turn out for licenses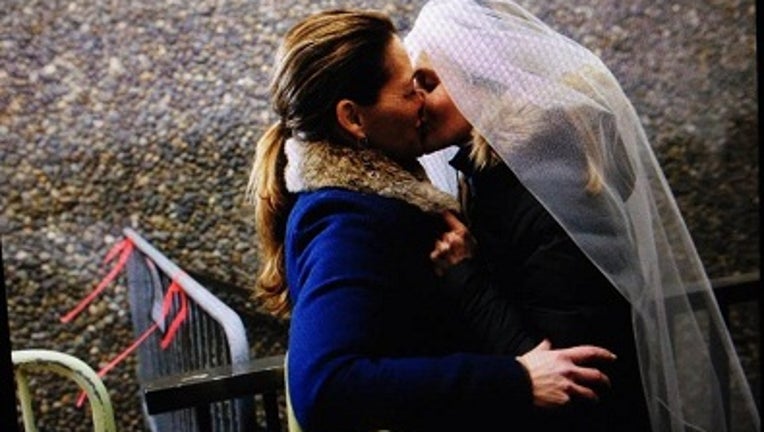 SEATTLE -- Same-sex marriage in Washington state became legal at 12:01 a.m. Thursday, and hundreds of same-sex couples lined up at the King County Administration Building in Seattle to apply for marriage licenses.

King County estimated the crowd just before midnight at more than 206 couples.

"To have this day and to really have the recognition of our state and our fellow citizens, it really means the world to us," said Dawn Rains, who had arrived with her partner, Heather Laird.

"It's a big deal. I'm really excited.  It's a sign of being equal, being respected and having our love acknowledged," Laird said.



The first couple chosen to apply for a marriage license just after midnight were Jane Abbott Lighty, 77, and Pete-e Petersen, 85, who have been together for 35 years and live in West Seattle. An interview earlier this week with the couple is below.



Kelly Middleton and Amanda Dollente were among those at the head of the line. "Just like everyone else that we know that are in love, we want to spend our lives together," Middleton said. "We have two little girls and they are very excited, yes, they feel so special. They say look their mommies are getting married."

Thurston County, which includes Olympia, the state capital, was issuing 15 licenses to a group picked from a lottery at a 12:01 a.m. Thursday ceremony. The county Auditor's Office was to reopen at 7 a.m. Thursday for all others.



Washington imposes a three-day waiting period before marriage licenses become valid. That makes Sunday the earliest a wedding can take place.

Seattle City Hall and some religious groups and other organizations plan to hold free same-sex wedding ceremonies on Sunday.



Earlier this year, the Legislature in February passed a measure to legalize same-sex marriage, but opponents got enough signatures to hold a referendum, putting the law on hold.  The legalization of same-sex marriage, Referendum 74, was approved by voters in the Nov. 6 general election.  R-74 passed 53.7% to 46.3%, with only nine of Washington's 39 counties voting for it, but those counties were in populous Western Washington.

In Olympia, Gov. Chris Gregoire and Secretary of State Sam Reed on Thursday afternoon official certified the Nov. 6 vote on R-74.

In the 2012 elections, Washington, Maine and Maryland became the first  states to legalize same-sex marriage by popular vote. Others legalized it through legislative action or court rulings.

The other states to legalize same-sex marriage are Massachusetts, Connecticut, Iowa, Vermont, New Hampshire, New York, Maine and Maryland, and the District of Columbia.