Salmon spawns on Obama's shoes: 'He's happy to see me,' president laughs




DILLINGHAM, Alaska (AP) — President Barack Obama got an only-in-Alaska experience during his visit to the isolated fishing village of Dillingham.

As he held a large salmon in two gloved hands Wednesday, it spawned on his shoes. The president's reaction? "She said he (the fish) was happy to see me," Obama laughed, referring to a comment made by a local angler standing next to him.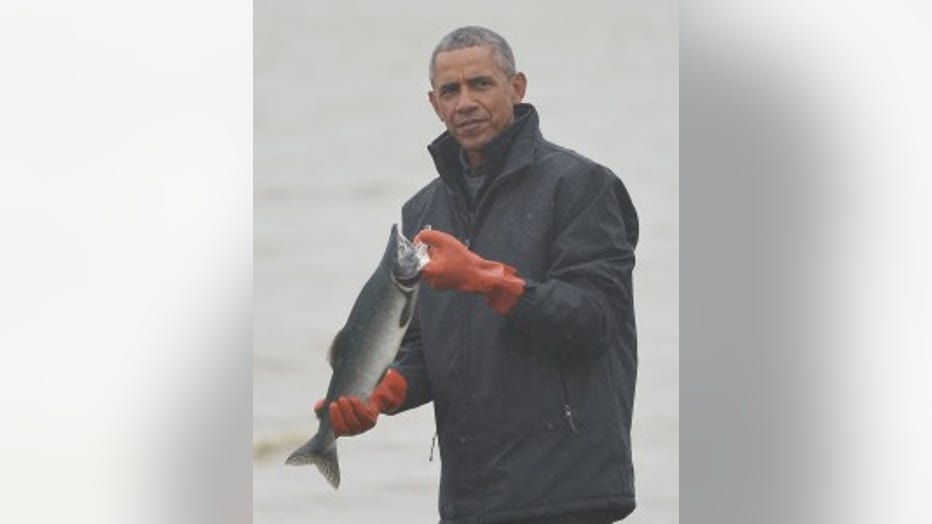 President Barack Obama holds a silver salmon while meeting with fishermen on Kanakanak Beach in Dillingham, Alaska on September 2, 2015. (Photo: MANDEL NGAN/AFP/Getty Images)


Before leaving Dillingham, the president attended a cultural performance at a local school, where youngsters in traditional headdresses with jewels and fur waved their hands in the air and slapped their thighs as they danced and chanted.

Obama joined in on the last dance, declaring, "I've been practicing."

The president's visit to the fishing operation came with a serious goal of promoting the importance of environmental protection.