Sale of Kings to Seattle group a 'done deal'? New potential buyer in mix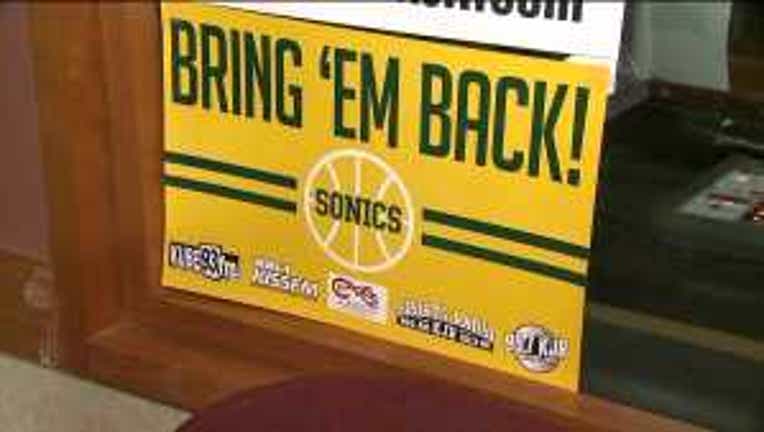 SEATTLE -- At a Seahawks rally Friday, it was all about the blue and green, but fans are also holding out hope that the green and gold will return.

"You can't get no better than that," said fan Shown Jackson. "We got our Hawks here, we got our Mariners here, and now we got our Sonics back!"

A source says the sale of the Sacramento Kings to a Seattle group led by Chris Hansen is a "done deal."



At about 10 a.m. Friday, Comcast Sports net reporter Matt Steinmetz posted this: "I've heard from reliable source that the Kings' sale to Hansen-Ballmer in Seattle is done deal. Source said price of the sale is $525 million. The source said further that the Maloofs will have no stake or decision-making with Seattle team and are out."

A Sacramento Kings spokesman had no comment, and neither did the Kings owners nor Hansen.

The Kings owner, the Maloof brothers, were reportedly holding out on an earlier proposed deal for $500 million, and were hoping to keep a small piece of ownership and some decision-making powers over the team. But Steinmetz says the extra $25 million means they would take the money and walk away.

Dave "Softy" Mahler, of KJR Sports Radio, said it's not a matter of if --but when Seattle gets an NBA team back.

"We've got a blueprint for an arena waiting in Seattle," said Mahler. "It's the 12th largest market, and there's no way the NBA was going to say no for long."

Other investors in California are also coming forward, including the founder of 24-hour Fitness, claiming they want to buy the team and keep it in Sacramento.

Mark Mastrov, the founder of 24-hour Fitness, told The Sacramento Bee on Friday that he has assembled a group that wants to buy the team and keep them in Sacramento. The group also wants to "work with the city to get an arena deal if possible."

"There's definitely interest," he said, as reports swirled that the Maloof family had already made a deal to sell the team to a Seattle group. "We've been in touch with the Maloofs."

It may be too late.

Sources say the announcement of the deal between the Maloofs and the Seattle group is expected next week.