'Safety should never be compromised:' Are Washington schools prepared for earthquakes?


Washington's state superintendent admits earthquakes are the biggest casualty risk to students in our schools.

But not much is being done in our state especially when you look at what is happening in other West Coast states and British Columbia.

Washington is the only state that doesn't have a law or policy on doing seismic upgrades in our school. You can see California, Oregon and B.C. all do structural surveys on schools.

They've spent hundreds of millions -- even billions on retrofitting schools as of 2016, according to a report in The Seattle Times.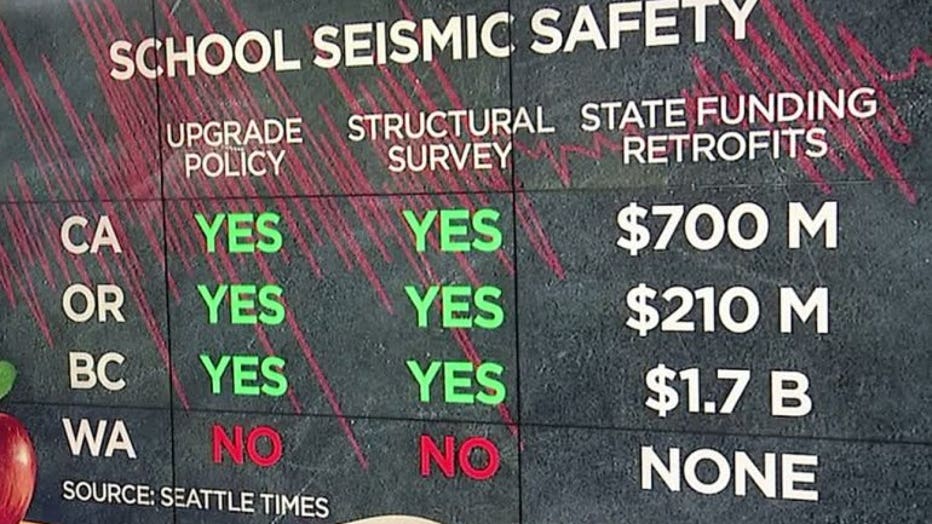 So far, the work of saving our schools in case of a major quake is falling on our individual districts, and in many cases they don't have the money.

Just this month in Port Angeles, voters rejected a $46 million levy that would have renovated Stevens Middle School. That is one of several schools, including the high school, that the district's superintendent says are old, not retrofitted, and would likely not stand if a major quake hits.

Marc Jackson is very frustrated, saying it should be the state's responsibility to fix or build new schools to keep students safe.

"Safety should never be compromised," said Jackson. "We should know that when you go to work, you don't have to worry about it -- my children are going to be safe because of the buildings they are in, and we both know that's not true."

Jackson says other larger districts like Everett are able to raise the $300 million needed to retrofit and build new schools -- making this is a case of the "haves and the "have nots."

Q13 News took this to the state Superintendent of Schools Chris Reykdal, and he refuted none of it. In fact he agrees that it is time for the state to step up to keep students safe.

"I think it's the right time for the legislature to step up with a dedicated pool of state funds to make sure that our buildings are safe for kids -- regardless of whether they pass local levies or bonds or not."

The superintendent does say the engineering in new schools is focusing on withstanding earthquakes, and the state does a good job of preparing students for quakes with annual drills and training.

Reykdal says he is pushing lawmakers to make this a priority. But over the past several years, as we've seen with the McCleary case, they have been focused on funding basic education in our schools and not the seismic safety of the actual school buildings.

Right now there is a bill that if passed would survey schools to see which ones are at the greatest risk.

But there is no proposal in Olympia currently to fund new schools buildings or pay for retrofits.