Ryan, Murray crafting deal to avoid another shutdown


WASHINGTON (From the LA Times) — The contours of a mini-deal to avert another government shutdown emerged Wednesday, a rare glimmer of bipartisanship in a Congress noted for division and dysfunction.


Crafted by Republican Rep. Paul D. Ryan, the party's former vice presidential nominee, and Democratic Sen. Patty Murray, the budget chairwoman, the proposed compromise could go before the House for a vote as soon as next week.

But prospects for passage remain murky, and tea party conservatives are already voicing familiar concerns.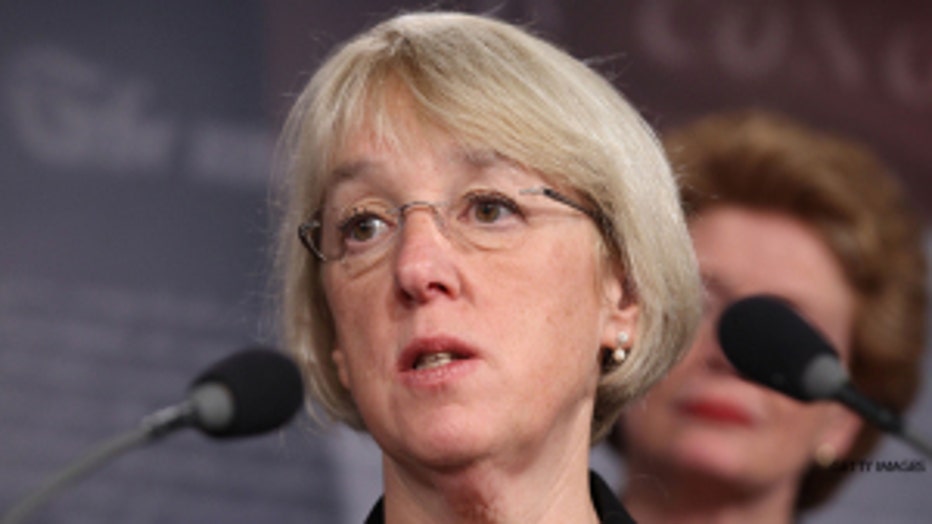 The pending two-year deal levies no new taxes and fends off some Pentagon budget cuts — which Republicans demanded — but preserves spending for social programs favored by Democrats, like Head Start for preschoolers, according to those familiar with the private talks who requested anonymity to speak candidly.

If approved, the pact would eliminate the need for about half of the $91 billion in so-called sequester cuts, which are set to take effect Jan. 15, arbitrarily slashing budgets for defense and social programs. Lawmakers on both sides are eager to avoid such cuts, which economists warn could harm the economy.

Perhaps no one has more to lose — or to gain — from the emerging deal than Ryan, the Republican presidential hopeful who is at the forefront of talks. The Wisconsin congressman and budget guru will be put to the test as he tries not only to broker an agreement with Democrats, but to convince skeptical House Republicans to support it.

The risks are great, especially if Ryan is rebuffed by Republican hard-liners, whose resistance to any compromise with the White House led to the last shutdown and drove public approval of the GOP to record lows.

But a success could be career-boosting if Ryan's leadership skills usher through an accord that demonstrates to his party faithful, and to American voters, that he has the stuff for higher office, perhaps as the next president or House speaker.


"It's a necessary part of Paul evolving as a leader," said John Feehery, a former senior House GOP aide who is now president of Quinn Gillespie Communications, a political consulting firm in Washington. "You have to prove that you can cut a deal. And then after you cut the deal, you have to prove that you can sell the deal."

"The risk if he doesn't get it done," Feehery added, is "people take him less seriously."

The potential compromise is far more modest than the "grand bargain" many in Washington had once hoped to achieve. But, at minimum, it would avert the kind of 16-day government shutdown that took place in October, leaving Americans feeling that Washington can no longer function.

Congress faces a Dec. 13 deadline to come up with a package before the House recesses. Without action, funding to keep the government open will run out on Jan. 15. Leaders hope to set in motion a process to give preliminary approval to the compromise this month with final passage in the new year.

According to those familiar with the negotiations, the deal would eliminate the need for about half of the upcoming sequester cuts through a combination of new fees, revenue and modest spending reductions.

It would set annual spending for the 2014 fiscal year at around $1 trillion — midway between the $967 billion demanded by the most conservative Republicans under the existing sequester law and the $1.058 trillion pursued by Senate Democrats in the budget accord reached by both sides in 2011.

Already, hard-line GOP voices in the House predict the deal will be a tough sell. "We can't get to that point yet," said Rep. Scott Garrett (R-N.J.), a top Republican on the Budget Committee. "It'll be hard for them to come up with that, bring it to the House and for us to say, 'OK, I could live with that.'"

Many Republicans view the mandatory sequester cuts as their biggest trophy from several years of budget battles. Nearly 20 conservative lawmakers signed a letter pressuring House Speaker John A. Boehner to avoid compromise, demanding instead a vote on legislation that would keep the government running at its current sequester level, which Democrats — and some Republicans — reject as too austere.

Those leading the campaign are many of the House Republicans who led the battle in October to roll back the Affordable Care Act before the government shutdown.

Ryan's challenge is to court pragmatic voices within the GOP's conservative flank, including several dozen House Republicans who privately acknowledge the political perils of another shutdown, but who have been afraid to speak publicly for fear of retaliation.

Many face attacks from outside groups — including Heritage Action, the political arm of the conservative think tank — that have threatened to back primary challengers in the 2014 midterm election against Republicans deemed too moderate.

Some Republicans have suggested that GOP leaders may simply try to pass a stopgap budget measure next week, preserving current spending levels.

But a top Democrat, Rep. Chris Van Hollen of Maryland, flatly rejected that proposal.

"We should not leave town until we get an agreement on the budget," he told reporters this week.

"It was the mantra around here for a long time: No budget no pay," he said, reviving a GOP slogan from earlier this year. "Our view is: No budget, no vacation."

From the LA Times