Russia: More than 500 injured as meteor slams into Urals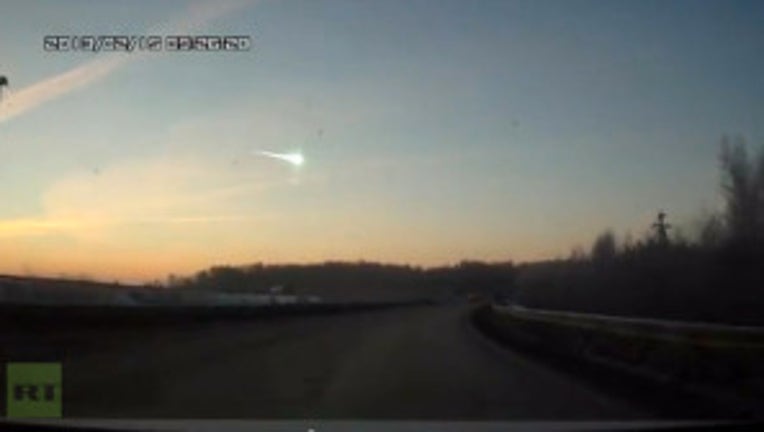 MOSCOW -- A meteor streaked over the city of Chelyabinsk in Russia's Ural Mountains on Friday morning, producing a blast that injured hundreds, caused minor damage to buildings and temporarily disrupted Internet communication, officials said.

Emergency Situations Minister Vladimir Puchkov reported to President Vladimir Putin in televised remarks that more than 500 people were injured, with 112 of them -- including 80 children --  requiring hospital care.



Puchkov said 297 residential houses, 12 schools, several social facilities and industrial buildings were damaged.

"It was recommended that work be halted at some enterprises so that citizens could go back to their homes and assess the damage," Puchkov said in his report.

An unidentified Interior Ministry spokesman told the Interfax news agency that about 1,000 people were injured, including over 200 children.

Interfax also reported that the largest parts of the meteor fell in three areas near Chelyabinsk, including Chebarkul Lake.

Roskosmos, the Russian space agency, said it had not launched any objects on Thursday or Friday, Smirnykh said. "At this point we are confident that we are dealing with a meteor rain resulting from the explosion of a large meteor causing flashes and sound shock waves in the Chelyabinsk region and observed in three other regions of Russia too.

"About 20,000 ministry personnel and 3,000 hardware units are now deployed in the area to assess the damage and look for traces and pieces of the meteor, none of which had been found yet by Friday noon," she said.

The meteor entered the atmosphere over the north of Kazakhstan and flew over part of Russia before exploding over Chelyabinsk, said Vladimir Stepanov, chief of the Emergency Situations Ministry's crisis center.

"We have deployed 28 stations in the area to monitor radiation levels, which up to now remain normal," Stepanov said. He added that officials did not have sufficient time to issue a warning before the meteor entered the atmosphere.

Dozens of witnesses reported seeing a bright flash in the air and hearing a loud explosion seconds before buildings and houses in the eastern part of Chelyabinsk felt the shock wave from the exploding meteor.

"When I saw some white narrow cloud moving outside the window I ran up to it and saw a huge blinding flash. It was like the way I would imagine a nuclear bomb. At first, there was no sound at all as if I suddenly went deaf," Nadezhda Golovko, deputy head of Chelyabinsk Secondary School No. 130 said in a phone interview on a land line, as cellphone communication was cut off in the area. "Then I started hearing loud sounds of something exploding, four or five, one after another, and then the school windows started breaking."

There were about 300 students in the school at the time, she said.

"Luckily, no one was injured," she added. "But all of them were in shock, especially when we found out it was not a plane crash but a meteor falling down."

Thirty-two windows in the three-story building were shattered, Golovko said.

"No need to say the classes are over for now, much to the delight of the over-excited schoolchildren," she said.

In a nearby zinc-processing plant, part of the zinc concentrate storage facility was destroyed, including its roof, said Natalia Vasilyeva, a plant spokesperson.