Russell Wilson: NFL Rookie of the Year?
By Clare Farnsworth, seahawks.com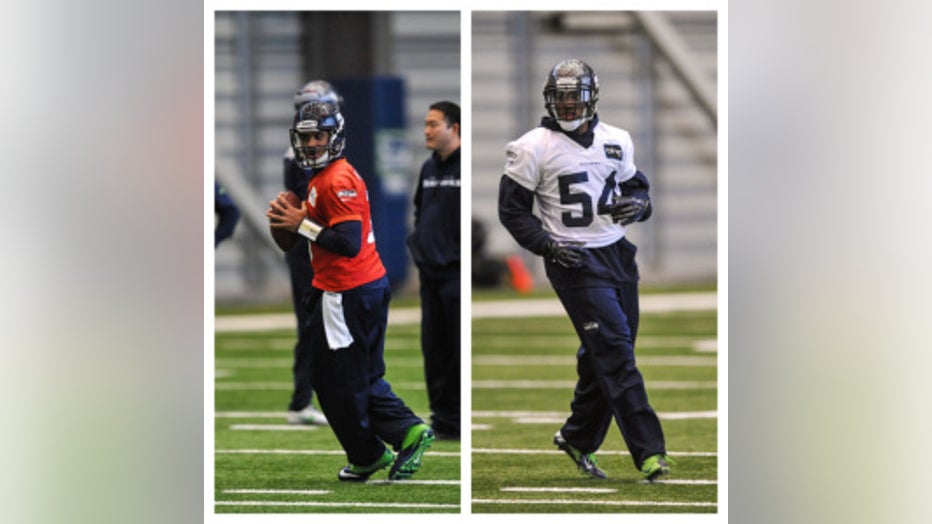 Russell Wilson and Bobby Wagner (Photo credit: Seahawks.com)


RENTON -- There's no question that quarterback Russell Wilson and middle linebacker Bobby Wagner have been the Seahawks' offensive and defensive rookies of the year.

You would have to consider their production heading into Sunday night's big rematch with the NFC West-leading 49ers at CenturyLink Field as beyond impressive for seasoned vets. Wilson has passed for 21 touchdowns, run for 402 yards and three scores.

Wagner leads the league's No. 3-ranked defense with 121 tackles and has developed into a productive every-down player, as evidenced by his three interceptions and two sacks.

Not surprisingly, Wilson, who was selected in the third round of the NFL Draft, and Wagner, a second-round pick, have played their way into contention for the NFL rookie honors as well.

In his weekly rookie rankings at ESPN.com, Matt Williamson has elevated Wilson into the top spot (up from No. 3 last week) and lists Wagner at No. 10 – and as the third defensive player behind Packers cornerback Casey Hayward (No. 6) and Panthers linebacker Luke Kuechly (No. 9).

Meanwhile, the Seahawks on Thursday placed defensive lineman Jason Jones on season-ending injured reserve, which opened a spot on the 53-man roster for practice-squad lineman Hebron Fangupo, which opened a spot on the practice squad for wide receiver Bryan Walters, formerly of Juanita High in Kirkland.

"He's really strong inside," defensive coordinator Gus Bradley said of the 6-foot-1, 293-pound Fangupo. "It will be exciting to see, if he has a chance to play."

Walters, who went to Juanita High School in Kirkland, played in four games for the Chargers last year and was with the Vikings in training camp this summer before being released.

"It's pretty fun to be able to just be a part of the team you grew up watching and rooting for," Walters said. "Even when I was on other teams, I was looking at the scoreboard to see the Seahawks' score."

The fans balloting for the Pro Bowl concluded on Monday, and the Seahawks players and coaches cast their votes Thursday. Each segment counts one-third toward selecting the NFC squad for the NFL all-star game on Jan. 27 in Honolulu.

After the fan voting, Marshawn Lynch is second among the NFC running backs (534,073 votes) to the Vikings' Adrian Peterson (828,225). Richard Sherman is third among the cornerbacks (169,404) to the Bears' duo of Tim Jennings (312,595) and Charles Tillman (221,364). Leon Washington is third among the kick returners (68,151) behind the Packers' Randall Cobb (131,626) and Bears' Devin Hester (102,688).

Kam Chancellor is fourth among the strong safeties (83,310). Jon Ryan is fourth (81,208) among the punters. Max Unger is fifth (116,135) among the centers. Chris Clemons is fifth (159,088) among the defensive ends. Earl Thomas is fifth among the free safeties (63,585).

Broncos QB Peyton Manning was the top vote-getter in fan balloting with 993,045.

The NFC and AFC squads will be announced next Wednesday on the NFL Network.