Rolex Robber: WMW viewer tips lead to 'fishy' smelling fugitive accused of swiping $45K watch
FUGITIVE CAPTURED Feb. 6th, 2013 -- Crime Stoppers of Puget Sound says tips called in from Washington's Most Wanted viewers helped lead to the arrest of an accused Rolex watch thief. Seattle police say the 43 year old man suspected of stealing the $45K watch from the downtown Ben Bridge Jewelers in January, saying "See ya!" when he ran out the door, was arrested February 6th at Tent City in Shoreline. Seattle police say a witness stated that the suspect had bragged and shown him the watch. FUGITIVE WANTED IN SEATTLE Jan. 25, 2013-- He claimed he was a fisherman who'd just earned a load of cash and wanted to buy a Rolex watch, but when the clerk took it out of the case so he could try it on, he took off. Watch for yourself, because it was all caught on tape: Watch as the guy comes into 'Ben Bridge Jewelers' in downtown Seattle. A salesman takes him over to the Rolex case where he asks to see a 'Yachtmaster II', that retails for $45,000.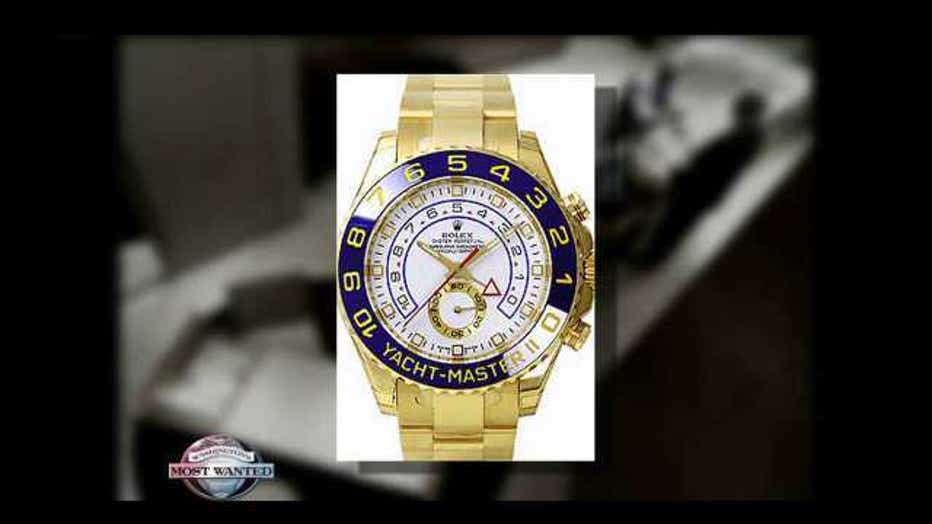 Detectives say the guy told the salesman he wanted to feel the weight of the watch so he put it on his wrist, looked at it for a few seconds, said, "See Ya" – and bolts for the door with the salesman running after him. From there, the chase was on. "The business next door sees the clerk that she knows from the jewelry shop," says Ret. Det. Myrle Carner with Crime Stoppers of Puget Sound. "They take off running. They run into another store downtown, and there they actually catch up with the suspect. A brief struggle ensues, and one of the clerks grabs the suspect -- he shoves her back -- actually assaulting her at that point. Then, he takes off again." The clerk said he smelled like fish and his speech was affected as though he may have been missing some teeth. Here are the details on this ROLEX ROBBER:
Wearing:
Help cops reel-in this fishy-smelling fugitive! if you can tell investigators who he is, call an anonymous tip into: CRIME STOPPERS: 1-800-222-TIPS You must call the Crime Stoppers hotline with your tip to be eligible to receive a cash reward for information leading to a fugitive's arrest. CLICK HERE for information on how to TEXT A TIP to Crime Stoppers.