Rising river floods Brinnon neighborhood; trail bridge in Sequim closed, in danger of collapse
BRINNON, Wash. -- The rain-swollen Duckabush River flooded nearby homes, prompting some evacuations Friday morning.  The river spilled over its banks, causing water to flow up to the doorsteps of houses near Highway 101 and Duckabush Road in Jefferson County.

Rescue crews went door-to-door to check on homeowners stuck in the water. Brinnon Fire Chief Patrick Nicholson said they helped seven people evacuate the area, but many homeowners decided not to leave.

"We did make contact with everybody who would answer and they chose to remain despite the risks that were given to them," said Nicholson.




The heavy rain also triggered a small mudslide, temporarily blocking a road near the river. Nicholson said crews rescued three people who attempted to drive around the slide.

A swift water rescue team was called into help reach homeowners trapped by the water. Nicholson said they will continue to monitor the neighborhood and other flood prone areas throughout the night. Additional water rescue teams are on standby.

Meanwhile,  the Dungeness River (trail) Bridge in Sequim was closed Friday after flood-strength water knocked loose two of its support pilings and threatened the collapse of the western portion of the bridge.

"The Bridge at Railroad Bridge Park has been damaged due to high water in the
Dungeness River and trees falling on it to the point where it is suspected that collapse is
possible if not probable," the Clallam County Sheriff's Office said.

"Authorities have closed the Discovery Trail at either side of the bridge and are warning citizens to stay out of the area. Emergency personnel are on scene and monitoring the situation."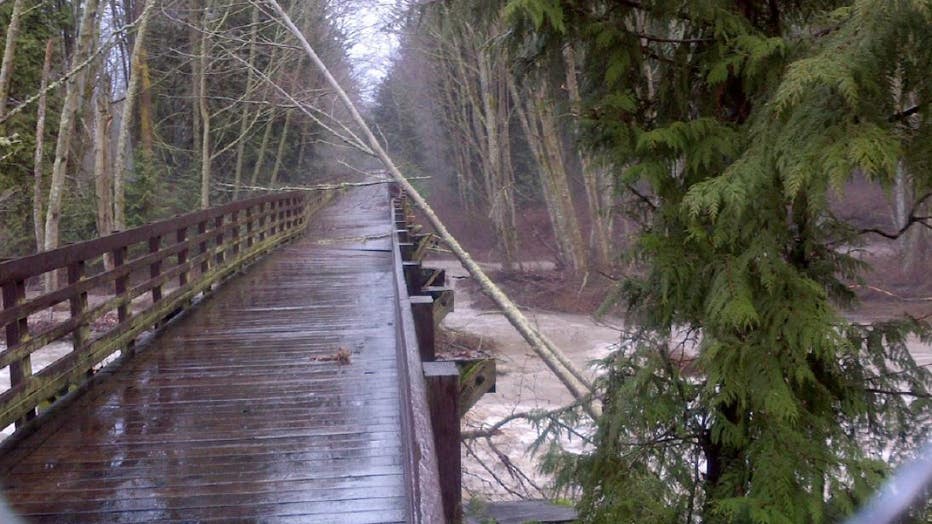 A view of the Dungeness River Bridge that has been closed and could possibly collapse. (Photo: Clallam County Sheriff's Office)