Reward raised to $20,000 in quadruple murder of Kitsap County family


PORT ORCHARD, Wash. - As grieving loved ones prepare to mark one year since a family of four was murdered in Kitsap County, Crime Stoppers of Puget Sound is now offering a $20,000 reward for tips leading to an arrest and charges in the case.

Kitsap County Sheriff's detectives want to hear from anybody who has first-hand information about the murders or knows who assisted or participated in this crime. The sheriff`s office believes there was more than one suspect involved.

Also, if you were asked by the suspects to dispose of something or do something at the time and you had no idea it was connected to such a heinous crime, now is the time to come forward and absolve yourself.

Just before 11:30 p.m. on Jan. 27, 2017, deputies received a desperate 911 call from a house in Seabeck near Lake Tahuyeh.

"Help. My whole family's shot, me too," said 16-year-old Hunter Schaap.  You can hear the pain, fear and frustration in his voice. "I'm dying. I'm shot right now. My family's dead. When are you coming to me?" he asks.




Now, his call for help has been answered thanks to anonymous donors who have increased the Crime Stoppers reward from $4,000 to $20,000.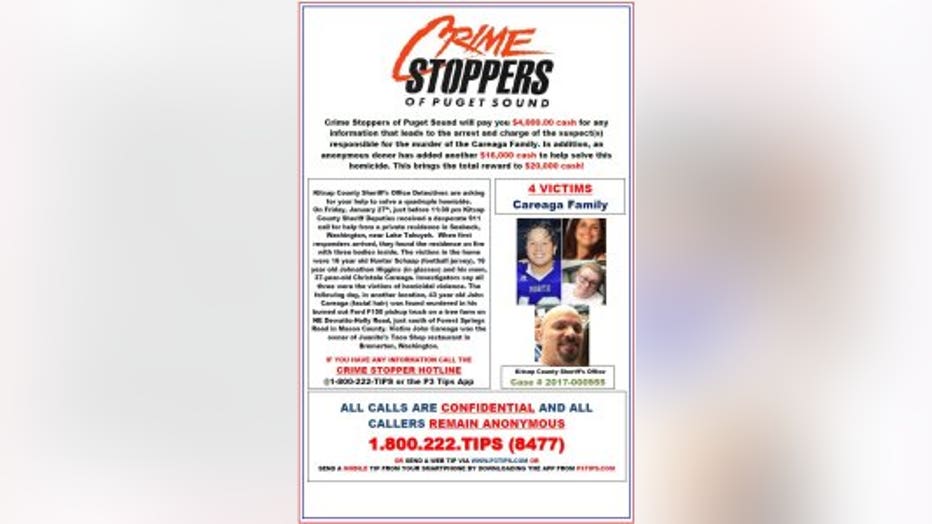 When deputies arrived, they found Hunter, his 16-year-old brother, Johnathon Higgins, and his mom, 37-year-old Christale Careaga. The next day, Christale's husband, Johnny Careaga, was found murdered in his truck in Mason County.

Kitsap County Sheriff's detectives want to hear from anybody who has first-hand information about the murders or knows who assisted or participated in this crime. The sheriff's office believes there was more than one suspect involved.

The Kitsap County Sheriff's Office has named a person of interest in the case who they say was identified after they released surveillance video last year. It was taken in a Target store 12 days before the murders.

"We identified the person in the video as Danie Kelly Jr. Age 39 of Bremerton. He remains a person of interest in this case. We also identified that Mr. Kelly is wearing Bandidos motorcycle club attire in the video and we also want to speak to his close associates because we believe they have information about his activities and the activities of those close to him," said Lt. Jon VanGesen.

Investigators will only say Kelly's actions at the store were specifically relevant to the case.

"We continue to investigate all of his activities from Jan 15th up to Jan 29th. He has an association with the Careaga family and he has relevant information to the homicides of Hunter and Jonathan," he said.

Investigators says tips from the public and the courage to come forward have been critical to the case.   They are also focusing on surveillance video showing Johnny Careaga meeting with someone in a sedan in the parking lot of the Camp Union Grocery store just after 9 p.m., shortly before his family was killed.

"We know that Johnny`s truck pulled up next to it and they parked next to each other for several minutes and then this unidentified vehicle pulled out after Johnny had left and pulled into the neighboring church parking lot on the east of the Camp Union grocery. What would be helpful to us is being able to identify the passenger car. We don't know what the make or model is of it or who was in the car," said Lt. VanGesen.

Investigators hope that by naming a person of interest and the new surveillance video, there will be new leads to fill in the gaps in the timeline of events leading up to the murders.

"We are getting closer. We're getting more information. We're able to validate that information and I'm very confident that we are going to be able to solve this in the very near future," said Kitsap County Sheriff Gary Simpson.

As Jan. 27 approaches, grieving family members are pleading with the public for help asking everyone to listen to the fear in Hunter's voice.

"As this year has painfully passed, I've held onto hope for answers. We can`t solely depend on one entity to make change. It takes the community.  It`s never too late to do the right thing and come forward with information.  If it's fear that silences you, please take into consideration, please take into consideration the fear these monsters placed on human life, Jan. 27 last year. Let`s put an end to the fear and stand strong together. Four people were murdered. Two being 16-year-old children, Hunter and Jonathan. Children with their futures stolen. Their lives were taken in a horrific manner by people who shouldn`t have the ability to walk amongst us. Please stand up for them. Our family has lived with the life sentence. We need your help. We really desperately need justice in this case," said Hunter's mom, Carly Schaap.

If you have any information that can help detectives solve this case, send a tip to Crime Stoppers via the P3 Tips App on your smartphone or by calling 1-800-222-TIPS (8477). You can also submit it at www.P3Tips.com. It is anonymous.