Reward increased to $1.5 million in unsolved 2001 slaying of Seattle prosecutor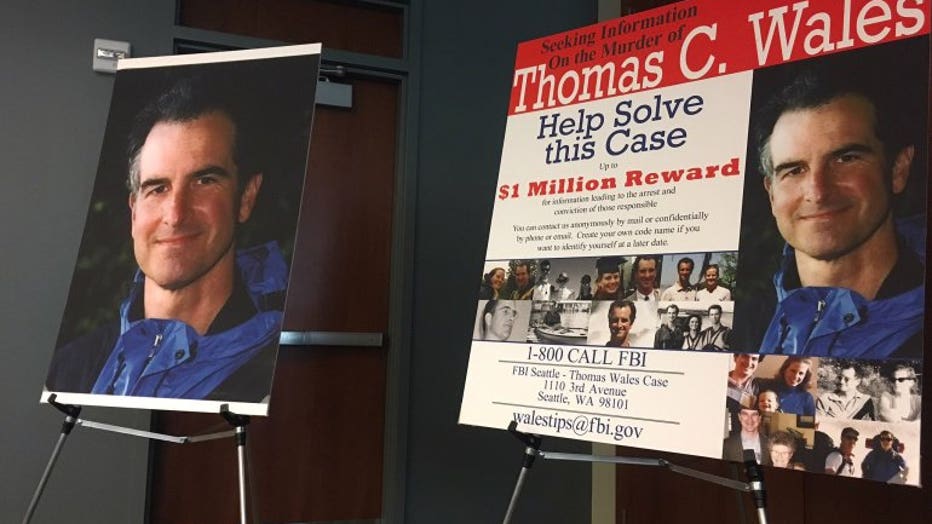 SEATTLE -- The second-highest ranking Department of Justice official was in Seattle Wednesday to announce an even higher reward in an unsolved case of what could be the first assistant U.S. attorney killed in the line of duty.

Thomas Wales was shot and killed in his Seattle home in 2001. The FBI believes he was killed because of his work as an assistant United States Attorney investigating fraud.

Despite countless leads and a $1 million reward for information, the FBI has yet to make an arrest in the case.

Deputy Attorney General Rod Rosenstein on Wednesday said the National Association of Former US Attorneys Foundation will add $525,000 on top of the FBI reward -- bringing the total tip reward to more than $1.5 million. That tip must lead to the arrest and conviction of the killer.

"I intend to see that we leave no stone unturned in the search for the killer who murdered Tom Wales," said Rosenstein. "We know that you're out there. The details you know, small or large, may be important to solving this case."




"We hope that this increased reward, and the publicity it generates, helps in finding that citizen who will provide the last evidentiary link so that charges may finally be brought," said Former U.S. Attorney Mike McKay.

Amy Wales, daughter of Tom Wales, also attended the press conference and thanked the DOJ and FBI for continued dedication to her father's case.

"My father's murder was an attack on the institutions of the United States," she said.

"For the persons that were involved in this, I would say we're never gonna stop coming after you," said Jay S. Tabb, Jr., Special Agent in Charge of FBI Seattle. "We will absolutely put together the evidence that we need to bring the killers to justice and we're coming for you so always consider that when you go to sleep at night, when you walk outside in the morning. Always be looking over your shoulder because eventually, we're gonna be there."

Seattle Mayor Jenny Durkan, a former U.S. Attorney, says she is committed to seeing the case through.

"Tom Wales meant much to me personally," said Durkan.




Wales, an 18-year veteran of the U.S. Attorney's Office in Seattle, was shot as he worked in the basement of his home on Oct. 11, 2001. According to ballistics tests, the murder weapon was a Makarov pistol outfitted with a replacement barrel.

Our news partner The Seattle Times reports the FBI has found evidence suggesting a hired gunman may have killed Wales. The Times cited an FBI official familiar with the investigation.

WATCH: Previous coverage of Thomas Wales' death from Washington's Most Wanted


Now read: Washington's Most Wanted criminals, cold cases, missing persons