Residents seek relief as heat wave bakes Northwest
Children splashed about as adults dipped their toes in fountains seeking relief from a heat wave that's baking a region famous for cool weather.

In normally temperate Washington and Oregon, warm days mean simply drawing shades and running fans. But a searing high-pressure system was making Portland and Seattle sizzle and leading residents to hunt for air conditioning.

Portland hit 100 degrees on Wednesday and Seattle 91.




Many concerned communities have opened cooling centers and warned residents to stay hydrated, avoid strenuous activity and keep their dogs out of parked vehicles.

The National Weather Service issued an excessive heat warning for western Washington and Oregon and said the highs in Seattle on Thursday could hit 95 (35 Celsius) while Portland could reach 105 degrees (40.5 C).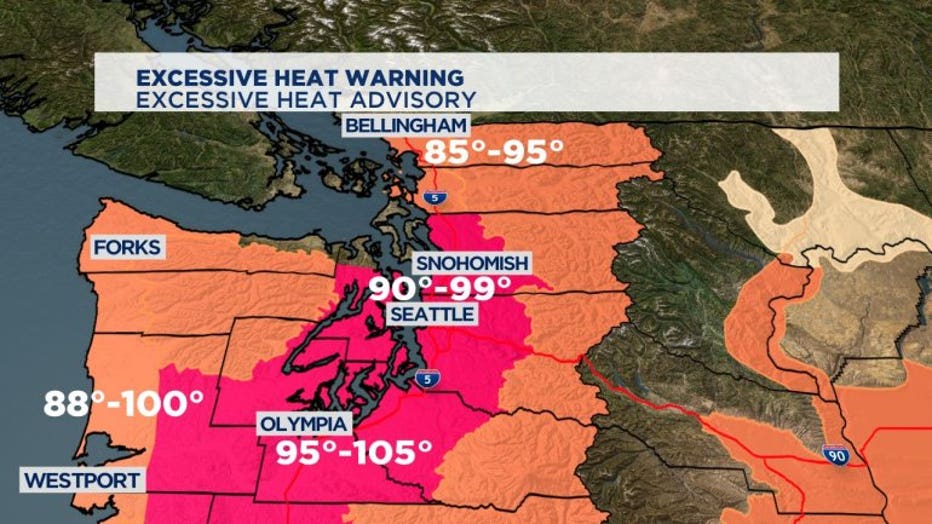 RELATED: Stage 1 burn ban issued across much of Western Washington




The Northwest is better known for its fall, winter and spring rainy seasons. Even July and August are relatively mild months. But the powerful high-pressure system arrived just at the height of summer.

Portland's light-rail trains are operating at slower speeds amid concern that the heat will cause tracks to expand and risk a derailment. In exchange for the slow service, fare inspectors are not checking riders for tickets.

Hun Taing uses the train to get to her job in downtown Portland, but she switched to an air-conditioned car because of the delays. She and a co-worker, Heather Heater, had a casual work meeting Wednesday at Director Park, dipping their toes in the fountain as children splashed in the water.

They both have air conditioning at home — something they once lacked — and expressed more concern for the homeless and elderly than for their personal comfort.

"I was in an apartment without AC when I just had my twins, and it was really difficult," Taing said Wednesday. "We had to pack ourselves in the car and just go somewhere, drive somewhere, because that apartment on the second floor was too hot for the infants."

RELATED: Worse than Beijing? How Seattle's air quality compares to other cities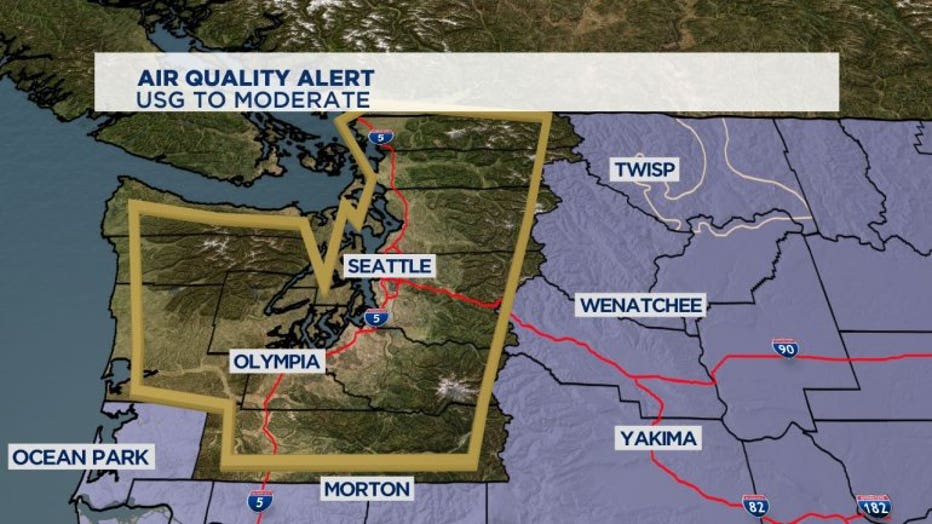 Heater, who endures jokes about her last name, said having air conditioning was a requirement when she moved to the fourth floor in a recently constructed apartment building.

Anna Miller, 27, lives in an older brick building — a situation faced by many young renters.

"It's going to be pretty warm, but I'll probably just go to a bar before going home," said Miller, who wore a scarf and long sleeves outdoors Wednesday because the morning was chilly and she works in an air-conditioned office as an administrative assistant.

Record-breaking heat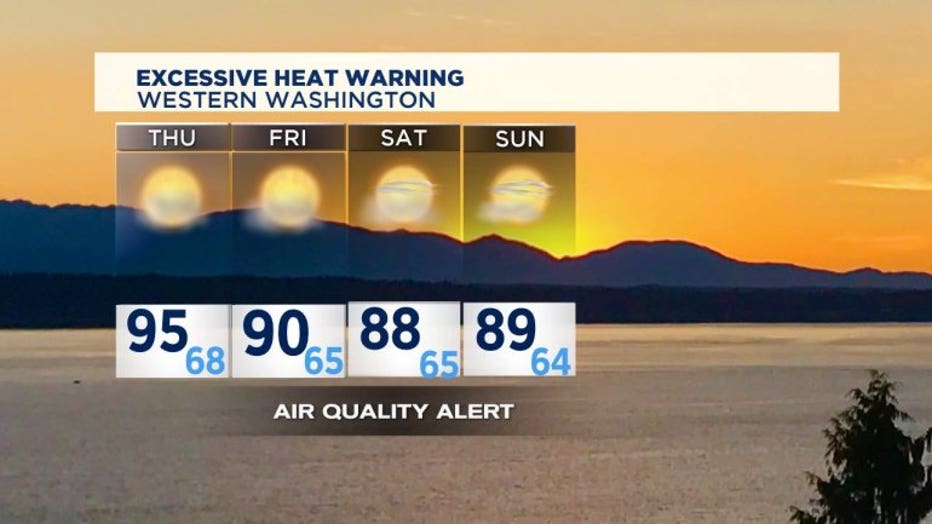 Forecasters had warned that Seattle could see its highest temperatures since the 1890s. The city has recorded only three days at 100 degrees (38 C) or higher in the more than a century, according to the weather service.

The Pacific Northwest's largest city opened about 30 cooling centers in air-conditioned libraries and senior centers. Seattle officials also encouraged people to use more than two dozen wading pools and spray parks.

Outside an Amazon warehouse in Kent, Washington, hundreds of people lined up in a hot parking lot for a job fair, waiting to enter an air conditioned tent to check in. One potential applicant left after being told he couldn't leave his dog in his car, even with the windows open.

Ron Joslin, 55, of Tacoma, broiled in a lavender shirt and striped tie as he waited. He's been out of work since April, but the forecast almost kept him from the job fair, he said. His wife insisted he go.

"She heard about it on the news and was like, 'You need to go there.' I said, 'It's going to be 100 degrees.' She said, 'You need to go there.' She's tired of me being around the house."

Amazon took lengths to keep the potential employees comfortable, handing out iced bottles of water. Some temporary workers hired for the day ferried trays of cups overflowing with blue, red and yellow shaved ice to the sweltering applicants.

In the state capital of Olympia, 66-year-old Dave Thysell was two-thirds of the way through a 13-mile (20.9-kilometer) walk, a trek he said he made earlier than he usually does.

"I never exercise early, but today I did," he said Wednesday. "I don't like the extreme heat." In Olympia, "anything above 75 or 80 is too much."

Temperatures in the capital were supposed to be in the upper 90s Wednesday and surpassing the 100-degree mark on Thursday.

In spite of the scorching conditions, Thysell said he's not rushing out to buy an air conditioner. Even if he wanted to, most stores are sold out.