Report: Colorado company refuses service to 'colored people' in 'Mount Ghetto'


DENVER -- A shocking hidden camera investigation captured a woman refusing to conduct business in one neighborhood because she says the residents there are "colored people" who "don't pay their bills."

Q13 FOX sister-station FOX31 Denver started an investigation after receiving a complaint from an employee at Mile High Heating and Cooling who claimed the company did not service the Montbello neighborhood.

The worker said, "They call it Mount Ghetto" and they don't do business there.

FOX31's hidden camera investigation found the worker's allegations were true, and that the company's policy about not servicing what was once a prominently black neighborhood is talked about openly in their Westminster office.

The station sent a producer to Mile High to apply for a job, and she was hired on the spot.

Andrea, a manager at the office, started teaching the undercover producer how to make cold calls.

She said, "Here's your Tuesday calls." Under the word Tuesday, the paper said, "Montbello 80239 'never call' which prompted our producer to ask why? Andrea replied, "Do you know anything about Montbello? …You don't live there do you? …We call it Mount Ghetto … um colored neighborhood." Andrea went on to explain Mile High Heating and Cooling never cold calls Montbello because she claims the residents don't pay their bills.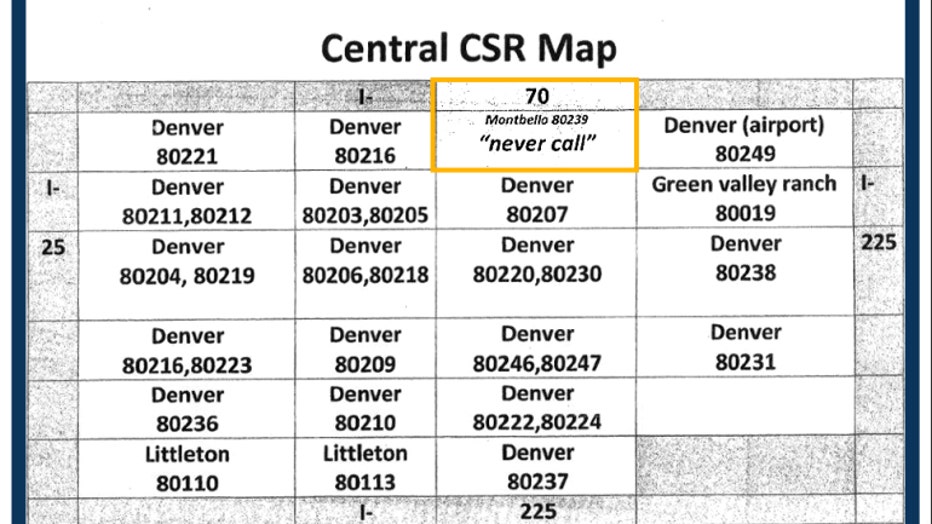 FOX31 wondered, if a Montbello resident calls Mile High Heating and Cooling for service, will they send a technician and a truck?

Long-time Montbello resident and home owner Pam Jiner made a call for a furnace check. They asked for her zip code and then said a scheduler would call her back in a few minutes. She never received a return call.

Then, reporter Heidi Hemmat called the company asking for the same service, but for a different zip code. They were immediately sent to a dispatcher who would schedule an appointment.

"It blows my mind. It blows my mind. Who would do something like that? Single out a race and a community? It is racism, clearly, blatant out right racism." Jiner told KDVR.

ACLU's legal director Mark Silverstein watched the hidden camera video. He said race-based discrimination policies are against the law.

"There are local ordinances, there are statutes and there are even federal laws that forbid this kind of discrimination based on race," Silverstein said.

Reporters tried to speak with the manager and owner of the heating and cooling company, but neither would comment on camera.

Following the investigation, city leaders scheduled a news conference and protest for Thursday.

Watch the full hidden camera investigation above.