Remains of 55 found at notorious former Fla. reform school for boys


By David Zucchino

Los Angeles Times

MARIANNA, Fla. -- For decades, relatives of some boys dispatched to the notorious Arthur G. Dozier School for Boys have struggled to find out what became of them after they went missing amid reports of beatings, torture and sexual assaults at the reform school in Marianna, Fla.

On Tuesday, researchers and forensic anthropologists moved a step closer to providing answers. The remains of 55 people have been uncovered on school grounds, University of South Florida researchers announced – five more than previous field work had indicated and 24 more than listed in school records.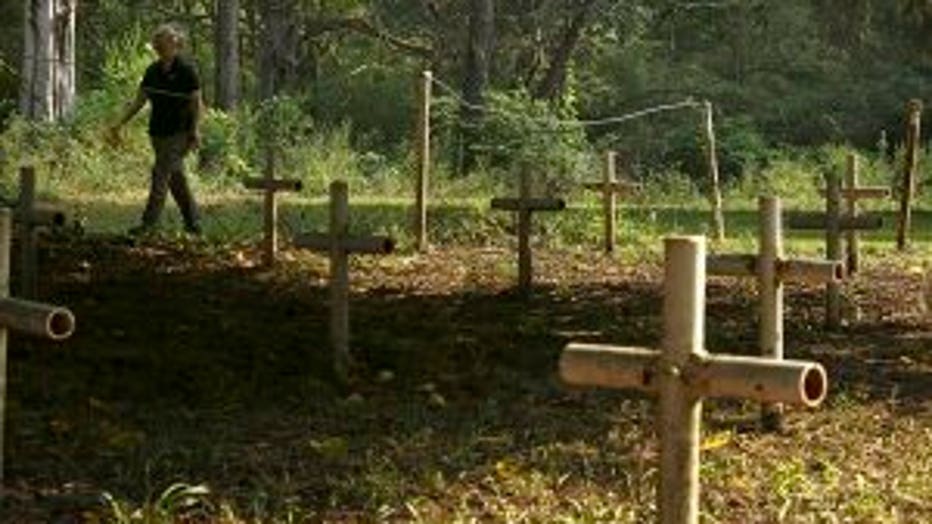 A team of anthropologists from the University of South Florida began exhuming suspected graves at the Arthur G. Dozier School for Boys in Marianna, Fla.(Edmund D. Fountain / Pool Photo / August 30, 2013)


"Locating 55 burials is a significant finding, which opens up a whole new set of questions for our team,'' said Erin Kimmerle, a University of South Florida associate professor and forensic anthropologist who has led researchers on a nearly two-year project aimed at uncovering lingering mysteries at the school, which operated from 1900 to 2011.

From September to December of last year, researchers led excavations at or near Boot Hill, an unmarked cemetery on school grounds. Using ground-penetrating radar, DNA samples and search dogs, they probed for unmarked graves of boys reported missing over the years.

Bones, teeth and other artifacts were recovered for all 55 bodies, Kimmerle said Tuesday. Bone and teeth samples will be submitted for DNA testing. Meanwhile, researchers are attempting to collect DNA from survivors of boys sent to the school as "incorrigible,'' or for truancy or petty crimes.

So far, DNA has been collected from 11 surviving family members of former Dozier residents. Researchers are seeking DNA from 42 more. Anyone with information may call the Hillsborough County Sheriff's Office at (813) 247-8678.

The grave sites are not marked; some remains have been found in woods nearby. Thirty-one white crosses that dot the burial ground were erected in the 1990s to commemorate the unnamed boys buried there.

Kimmerle said researchers would attempt to verify the identities, ages and histories of the remains, as well as the timing and circumstances of their deaths. Excavations will resume in the coming months, she said.

"All of the analysis needed to answer these important questions are yet to be done. But it is our intention to answer as many of these questions as possible,'' she said.

Survivors who attended the school have described beatings, torture sessions, rapes and the disappearances of boys, many of them after they were taken from dormitories or other school buildings for punishment.

Roger Dean Kiser, now 67, of Brunswick, Ga., told The Times in October that he was sent to Dozier at age 12 in 1959 and stayed for two years. He wrote a book about the school,  "The White House Boys,'' named for a house on school grounds where he said boys were beaten.

Kiser said he was twice beaten bloody with a leather whip reinforced by a slab of sheet metal. Other boys were beaten so badly that their underwear was pounded into their bare skin. Many were sodomized or forced to perform oral sex on staff members, he said.

Boys were beaten for such infractions as spitting, cursing or talking back. Staff members placed bets on who could draw blood first.

The bodies of some boys were burned in the school incinerator, Kiser said. He said another boy, Johnny Gaddy, told him he had seen a severed human hand in the "hog bath'' where leftover food was dumped to feed pigs. Boys were rented out to work without pay for neighboring farmers and timber companies.

"They're going to find a lot of bodies out there, and there are a lot more bodies they'll never find,'' Kiser predicted in the October interview.

Records at Dozier say some students died of influenza, pneumonia, tuberculosis, knife wounds or in a devastating 1914 fire.

Historical documents suggest that more than 100 boys died at the school, Kimmerle said in October.

An investigation by the U.S. Justice Department documented some of the abuse and led to the closure of the school. The Florida Department of Law Enforcement concluded in 2010 that, although it found dozens of graves, there was insufficient evidence to pursue criminal charges.