Redmond bicycle shop says stolen high-end road bike returned; suspect remains unidentified
UPDATE -- OCTOBER 23, 2017
The stolen BMC Team Machine SLR 01 with Ultegra electronic shifting (Di2) high-end road bike worth $6,299 that was stolen from Element Cycles in Redmond has been returned.  An unidentified man dropped it off on at 12:45 AM on Saturday.

"Luckily the Trader Joe's closing shift walked by shortly thereafter and put it in a safe place until they brought it over to us yesterday," said  General Manager Lorraine Wright who added, "Thanks for everyone's help.  I'm guessing all the pressure from all the coverage made the bike too hot and the thief  caved to all the pressure😊  Again, thank you all so much for all of your efforts we appreciate it so very much.  It's great to see the good guys win!!"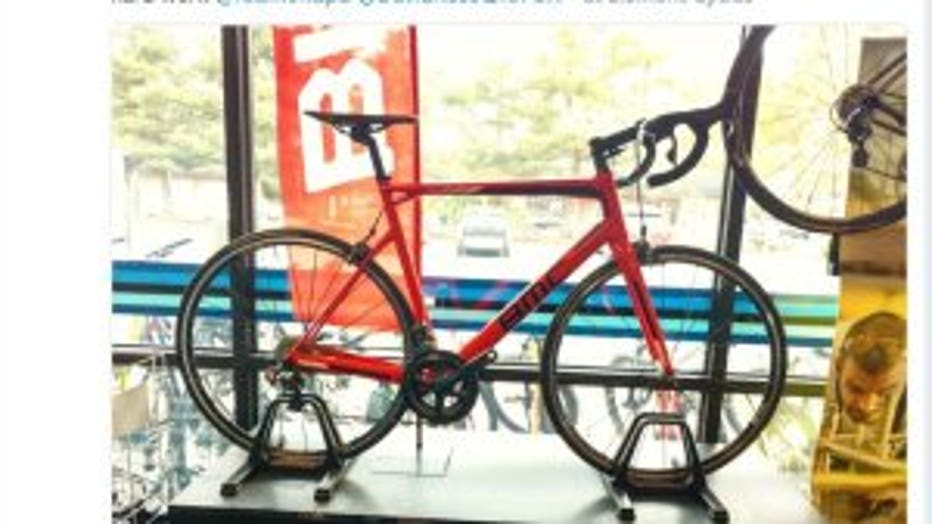 The suspect and his girlfriend have still not been identified.





REDMOND, Wash. -- Redmond police are asking for the public's help to identify a suspect in the theft of a BMC Team Machine SLR 01 with Ultegra electronic shifting (Di2) high-end road bike worth $6,299 from Element Cycles on 160th Avenue NE.

The theft occurred during a sale over Labor Day weekend.

"Looks like he really put a lot of thought into it. I mean he was asking the sales people a lot of questions. He didn't take the first bike that he rode. He brought two of them back before he took the third one," said Public Information Officer Andrea Wolf-Buck with Redmond Police.






Because the store clerks were so busy dealing with more customers than they had anticipated, they forgot to get the suspect's ID and credit card as security.

"I think the thieves took advantage of that. We did have a staff member not follow protocol that created an environment where this could happen but regardless, when things are very busy that's when thieves strike. It's never happened before. It won't happen again," said General Manager Lorraine Wright.

They have been searching different buy-sell apps and websites in case the thief tries to unload the bike for cash.

"It's a sad state but Seattle has a lot of bike thieves and bike theft groups so these people might be affiliated with that," said Wright.

Police describe the suspect as white, with some facial hair, an athletic build and wearing a V-neck white T-shirt, dark skinny pants and white shoes. Police say he was with a thin blonde-haired woman in khaki shorts and a light-colored T-shirt who was driving a silver 4-door Lexus.  The video is too blurry to make out the license plate number on the vehicle though crime analysts are working on it.

"You can tell by the footage that the guy and his girlfriend planned this.  They weren't serious shoppers they were here to steal," said Wright.

Crime Stoppers of Puget Sound is offering cash reward of up to $1,000 to anyone who can identify the suspect or help locate his girlfriend or her vehicle.  Just call 1-800-222-TIPS (8477) or use the P3 Tips App on your phone to submit the information anonymously. You can also go to www.p3tips.com.

"We would really like to catch this guy and hopefully get the bike back for the shop," said Wolf-Buck.