Recycling at 'risk': China's new rules put programs in U.S. in jeopardy


SEATTLE -- Companies that collect your bottles and boxes say recycling programs as we know it are at risk. It's because of the so-called 'China Sword,' the country's ban on several types of recyclables. The 'sword' has paper and plastic piling up across the country, including Washington state.

THE CHINA SWORD




How can one country's restrictions have such an impact on the national market? Its size.

"The majority of recovered materials, recycled materials for the better part of two decades was exported to China," said Pete Keller, the vice president of Recycling and Customer Solutions at Republic Services, one of the country's largest solid waste companies.

In fact, China was the world's largest buyer of recycling, accounting for roughly 50 percent of the global market.

"This isn't just here. This is a problem across the entire industry, the entire country, across the entire world," said Kevin Kelly, general manager at the Seattle-based solid waste company Recology CleanScapes.

For decades, the U.S. and China's recycling relationship was mutually beneficial. China would ship goods to the U.S., and the U.S would use those empty ships to send China recycling. China would then use that recycling to make new products, which they'd then ship back to the U.S. The process was cyclical and continued for decades.

"We've been so reliant on China to sell," said Jeff Gaisford, the Recycling and Environmental Services manager for King County Solid Waste.

In recent years, China had expressed concern about the quality of recycling it was receiving. Recycling bales shipped to China weren't the pure product they claimed to be. For example, maybe there was too much cardboard in mixed paper or worse, too much garbage in a bale of low-grade plastic. Processing this low-quality material was terrible for the environment, something highlighted in the 2016 documentary Plastic China.

"It highlights some bad actors in the recycling industry, and I think the government said I want to put an end to their practice," said Kelly.

In July 2017 Chinese announced new regulations. In January 2018, they were implemented. The standards were impossible for U.S. recyclers to meet with current equipment, so the U.S. could no longer sell any recycling to China.

"The suddenness of this and the scale of it have been surprising to many people," said Kelly.

CHINA SWORD CUTS DEEP

"In the last 60 days from this facility, zero has been sent to China -- zero," said Keller.

Last year, Keller estimated, that China processed 28 billion tons of the world's recycling.

"The rest of the globe doesn't have that amount of capacity," said Keller.

In other words, there's too much material and not enough places to sell it.

Keller has been in the recycling business for decades and says he's "never seen anything like this before."



Images show it best. Since China announced, the "sword" recycling began piling up. At Republic Services sorting facility in Seattle's Sodo neighborhood, areas that used to be used to sort yard waste now are filled with piles of recycled paper.

"We don't really have any room to store," said Keller.

Yet, the paper is stacking up.

PRICE PROBLEM

With the increased supply of recycling and less demand, solid waste companies are facing another issue, a price drop.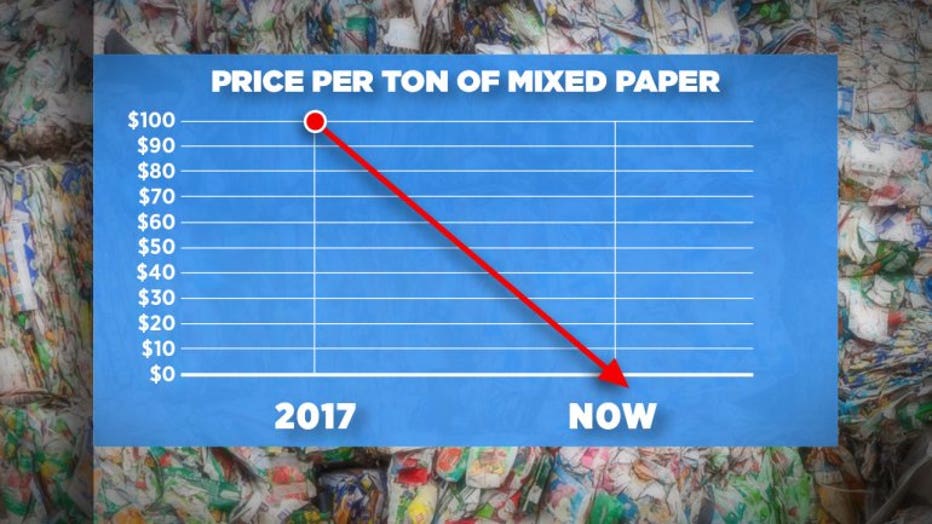 It depends on who you ask, but according to Brad Lovaas, executive director of the Washington Refuse & Recycling Association, one year ago mixed paper sold for about $100 per ton. Now companies will be lucky to get $10, $5 or any amount for the material. In some cases, recyclers are paying companies to take the product and process it.

"After all that effort and expense, you're left with a product that has no value," said Keller.

He adds that no value equals no profit and eventually no business. "The programs are at risk if the economics don't change. It's simple. It's real simple."

COSTS STACKING UP

Down the street in Seattle's Georgetown neighborhood, a smaller recycling sorting facility owned by Recology CleanScapes is in a similar situation.

"These have been difficult times for the business," said Kevin Kelly, general manager at Recology CleanScapes.

At a time when the company is making less money, it's increasing costs, slowing down the sorting process and adding staff to make sure they're producing a cleaner product.

"We've looked at every possible way to try to meet the standard," said Kelly.

THE DISCONNECT

To address the problem, local leaders and recyclers formed a task force.

But after speaking with some members, it is clear that there's a disconnect between some municipalities and private companies.

Here's how Seattle and King County officials describe the problem.

"It really remains to be seen," said Hans Van Dusen, Solid Waste Contracts manager for the city of Seattle. "Fundamentally, big picture, we don't see it significantly changing the overall big picture."

"I don't think this is any more challenging than what we've done in the past," said Jeff Gaisford, King County Solid Waste's Recycling and Environmental Services manager.

Some recyclers, including Keller, are not so hopeful.

"This is unprecedented. We've had hiccups before. We've had commodity crashes before, but we've never had this type of thing," said Keller. "It's an immediate problem."

King County and Seattle are also optimistic China will reconsider and remove the new restrictions. Keller said he's visited China, spoke with business leaders. He says the 'China Sword' is the new reality.

"There's nothing that would indicate that there's going to be a loosening of restrictions anytime soon," said Keller.

Keller reiterates that the problem is urgent and growing. He says it's not going to get easier, only harder.

"If new demand doesn't come on, some supply needs to go away, so that means programs go away or more material going to landfill, " said Keller.

In fact, some materials have gone to the landfill. We'll dig into that Thursday on Q13 Fox at 10 p.m.