Rare 'false killer whale' rescued from Vancouver Island shore (PHOTOS/VIDEO)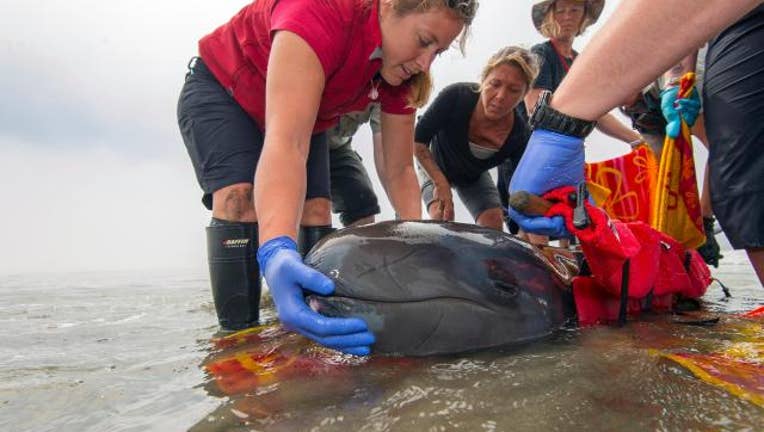 VANCOUVER ISLAND -- A beached false killer whale calf was rescued Thursday along the west coast of Canada.

Officials say the animal, between 4 and 6-weeks-old, had several wounds along his body.

A team from the Marine Mammal Rescue Centre at the Vancouver Aquarium jumped into action. As Canada's only professional rescue staff, they rushed to the surf near Tofino's North Chesterman Beach.

After getting approval from Fisheries and Oceans Canada, the team transported the calf to the Rescue Centre in Vancouver.

WATCH




Around the clock care

Aquarium officials describe the baby whale's rehabilitation:

The whale is estimated to be less than a month old, weighing under 70 kg. There are several lacerations along his body, likely caused by the stranding. Rescue Centre staff and volunteers are working around the clock to save this youngster – he is too weak to swim on his own and needs to be supported in the pool using a specially designed sling. In addition to food and medication, the team is using a wide array of medical equipment to treat the calf – including ultrasound and x-rays. There are at least three staff working on the calf at all times, though usually it's around five. It took 10 staff to transport him from Tofino to the Rescue Centre.

PHOTOS



What is a false killer whale?

Here's an explanation from the Vancouver Aquarium:

False killer whales (Pseudorca crassidens), distinct from the killer whale (Orcinus orca), are a rare species in British Columbia and are very rarely sighted. This is the first time our team has encountered this species and is reaching out to colleagues around the world, although very few veterinarians and other professionals have experience rehabilitating stranded false killer whale calves.