Rally held to call attention to homelessness, seek more help


SEATTLE -- Community members came together in Westlake Park Tuesday night to raise awareness about the homeless issue in King County.

You can't tell Amelia Gustafson is homeless by looking at her.

"I look like a college student, I carry a backpack, and people don't really treat me like I'm homeless," she said.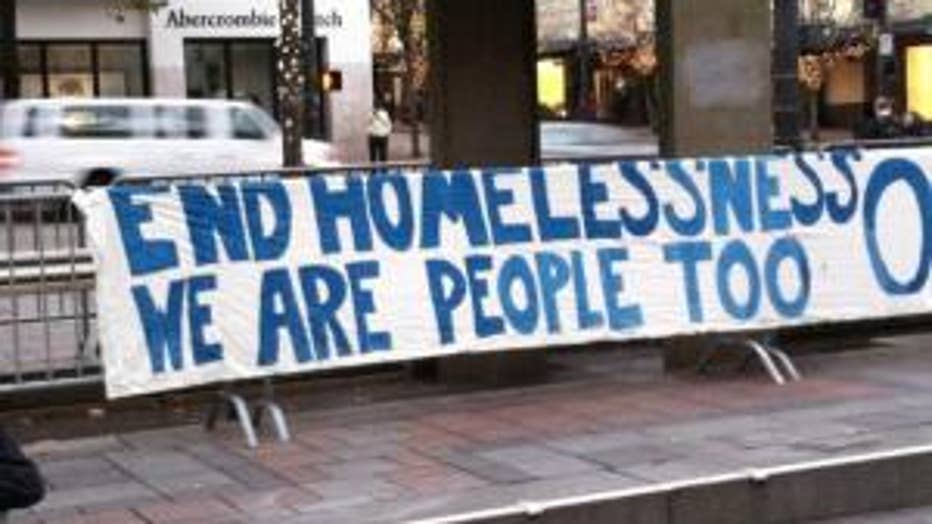 But after leaving a tough family situation, she ended up on the streets. She met a lot of other people who fell on hard times after losing a job or getting a divorce.

"People don't understand. I've seen people from every walk of life, from the top to the bottom, they end up homeless."

Gustafson attended Tuesday night's rally in Westlake Park because she wants people to see just how big a problem homelessness is in King County.

Aaron Pace said most people can't imagine what it's like to have no place to go.

"It's really rough," he said. "You do anything you can to stay warm, ride a bus around for a while, sit inside a mall until they kick you out."

Earlier this year, he got into a transitional housing program at SHARE.

"For the first time in my life, SHARE (Seattle Housing and Resource Effort) has made me feel like I'm where I belong."

But he said there aren't enough shelters for all the people who need help. That's why tomorrow he's going to join in a march to City Hall, to pressure the Committee to End Homelessness in King County to take some definitive action.

"More money and resources should be given not just to SHARE, but WHEEL (Women's Housing Equality and Enhancement League) and all the homeless services that are offered in King County," he said.

"There needs to be a lot more funding for shelters," added Gustafson. "There are things being done right now, but we just need more funding."

This will be an issue the City Council will have to face in the upcoming year. Presumptive City Council member Kshama Sawant was supposed to speak at the rally, but she got the flu,  City Councilman Nick Licata stepped in.

"No one should be found on the streets. I'm there with you to make sure it gets done," he said.

Gustafson hopes lawmakers will step up. She also hopes people will be kinder to the homeless, since we don't know why they ended up where they are.

"Let's be a community, let's not treat them like they're just nothing."

A march from Westlake Park to City Hall will begin at 7 a.m. Wednesday, so drivers may want to avoid the area.