Rainy weather wreaking havoc at Index landslide


INDEX, Wash. -- People living near Index worry a massive landslide that started in December could keep them cut off for weeks to come.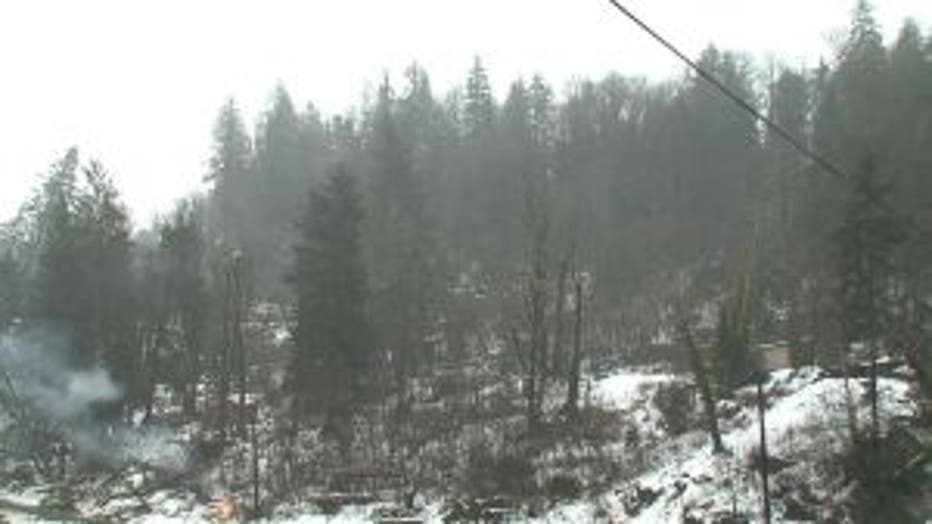 Removing a landslide at Index has been complicated by steady rain. (Photo: Steve Kiggins/KCPQ-TV)


The hillside continues to move, cutting off the main road for hundreds of people living along the South Fork Skykomish River.

Power lines caught massive trees from crashing into the ground, and flames scorched the earth from the arching energy.

Jeff Smith's group just barely avoided being injured by the falling trees.

"If we'd have been 15 seconds sooner, we'd have been hit by the tree," said Smith.

Repairs to Mount Index River Road have been under way since late last year when the slide first gave way.

A neighbor shot aerial video showing how tons of trees, mud, and clay careened down the slope.

The National Weather Service issued a landslide alert this week, warning that the soaked ground can't take on much more water.

"The ground will absorb as much as it can but after that it can't absorb it as much and I think it starts to become unstable," NWS meteorologist Johnny Burg said.

The road is now closed indefinitely until crews can repair new buckling on the lower portion of the slide area.

"This whole lower portion of the road is starting to buckle, you can tell that it's compromised to the max," said resident Byron Elwood. "The inertia of all the material coming down the hill is just pushing everything out of the way."

The biggest problem for these neighbors is that the roadway is not serviced by the state or county, so repairs have to be paid for by the residents themselves.

"Even if we had the money to fix it today, it could be months before there's access here," said Elwood.

Daily power outages plague the neighborhood, and parking your car up to a mile away from home is the new normal.

The continued rainfall means a long-term fix probably won't come until the summer.

"It's going to make this get worse and not better," said Smith. "We'll have some dry weather, we'll continue to work on it, and good times will come," Elwood said.