RAINN 'EM IN: Warriors, inflatable ponies, and a day for victims of abuse to find their voice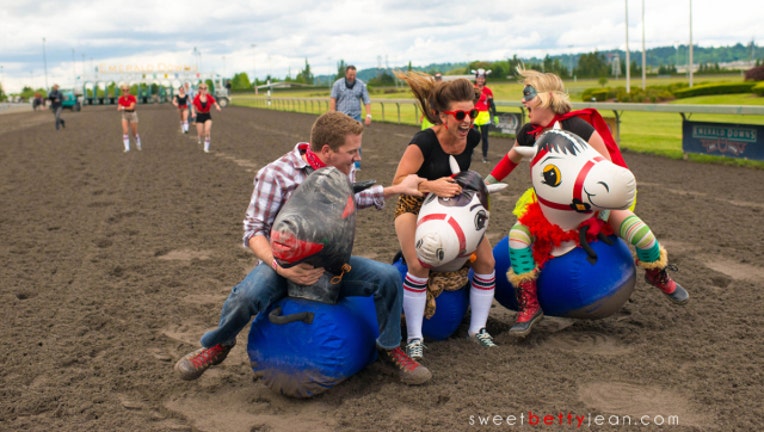 AUBURN -- Rape and sexual violence are some of the most disturbing, despicable, deplorable actions perpetrated. Rape can -- and often does -- ruin lives. It incites fear, and its mere mention can quiet a friendly conversation down to a whisper.

It's the whisper that spurred 35-year-old Jennifer Shipe into action.

Raped when she was just 18, Shipe found the whisper to be disquieting. Rape is dark and disturbing, so too must be conversation about rape; tip-toed around in everyday talks, and avoided by all but some of the most somber people.

But Shipe isn't somber. She considers herself a jokey, jovial person, who didn't want the cloud of "rape victim" to hang over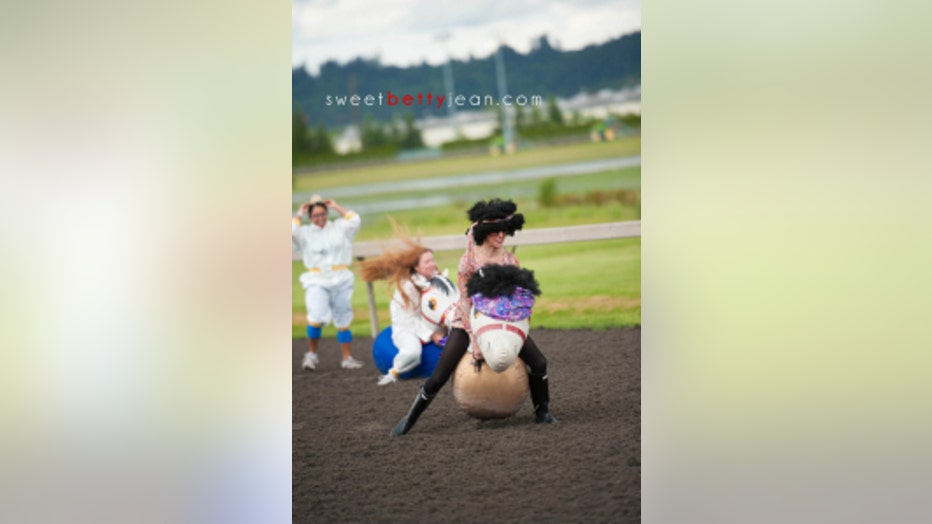 every conversation she had, dampening the perception of her attitude and spirit.

"I didn't want people to think of me differently as I told them a dark part of me," Shipe said. "Everything had to be incredibly somber. Hard and heavy with violence. That's not who I am."

So she avoided the subject until a huge national news event spurred Shipe to discuss her rape openly with others. It also lead her to create an event that could raise awareness of sexual abuse.

But she wanted an event that was fun, that people would want to come to. Something that accurately mimicked her attitude; where conversations on sexual abuse could hold a "delicate balance" alongside beer and fun.

And what's more fun than riding a plastic pony to victory?

Ponies with a bounce 

A Pennsylvania native and Penn state graduate,  Shipe was horrified by the Jerry Sandusky story that broke in 2011. She watched victim after anonymous victim come forward and describe years and years of horrible abuse, reminding her of her own past.

She took note of some of the victims' decade-long silence, much like her own. She sympathized with their reluctance to talk, as many said the decision to tell others about the Sandusky rape was more difficult than the rape itself.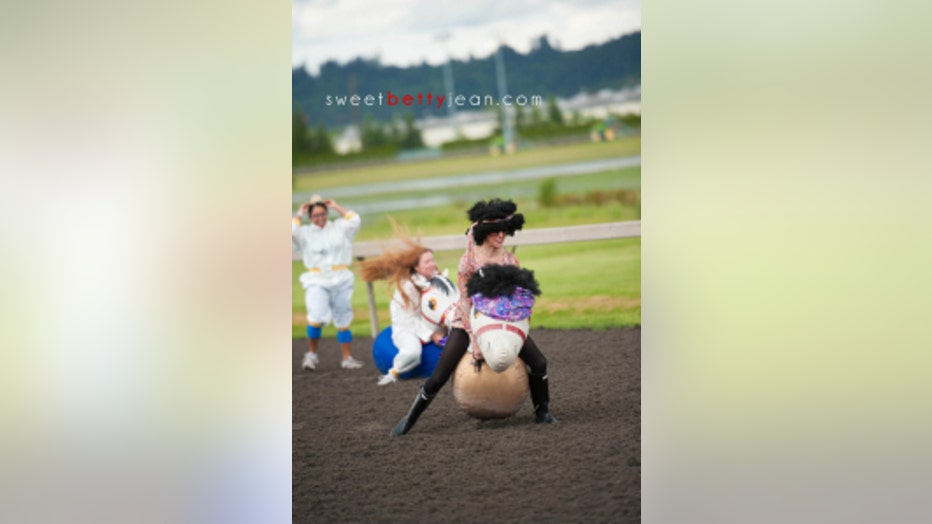 Their decision to tell the world about what happened inspired her to disclose her own rape to friends and family. She was also inspired to create an event and fundraiser that would help sexual violence victims, and encourage others to come forward.

But what kind of event? It struck her like a whip.

"We were at a Christmas party and a kid got an inflatable pony," Shipe said. "By the end of the day, all the adults were racing around on it."

In 2012, Shipe created RAINN 'EM IN, an inflatable horse race, where organized teams race around on inflatable ponies to raise money for the Rape Abuse and Incest National Network, the nation's largest anti-sexual violence organization. The event features teams with names like "A Horse with no Mane," "Dude Ranch," and "Starbucks Steve," all competing to raise money before they race. The teams then head to Emerald Downs where Shipe provides advanced grade inflatable ponies for the teams to race on between the real races.

It's a hectic, fun, team event surrounded by green stands and the loud cheers of Emerald Downs. Beer and laughter flows. But so does discussion about curbing sexual violence.

People at the Downs to view the races have never heard of RAINN or the pony race event, and that's one of the most important discussions Shipe will have all day, she said.

"This is such an important event," she said. "The balance between fun and a delicate thing is a delicate balance," she said.

Warrior 

Since 2012, Shipe has run three events a year-- at Emerald Downs, Washington DC and Shipe's hometown of Lancaster, Penn. All have raised enough money to help more than 8,000 sexual violence survivors get help through RAINN's National Sexual Assault hotline.

Soon after Shipe disclosed her rape to others, she began to turn away from terms like "victim" and "survivor." Instead, she calls herself a "warrior," Someone who has found their voice and is loud and happy in spite of a horrible incident in the past.

Though it took her years to find her voice, she hopes events like RAINN 'EM IN can help others find their voice, too. And maybe it will be loud and happy, a reflection of a personality not dampened by violence.

Like Shipes'.

Because among the ponies, the laughter, the talks and the cheers, there's more warriors out there. Just like her.

"I am a believer that you will find your voice when you're ready," she said. "What better way to help than to let others know they're out there like you?"

For more information on this Saturday's event and how to donate, visit RAINN 'EM IN's website here.