Rain returns to the lowlands, heavy snow makes travel tough over mountain passes


As we get ready to say goodbye to 2017 we'll close the year out with a couple of soggy systems for the lowlands of Western Washington and snow for the mountains.

We're keeping an eye Thursday on western Whatcom County for wintry conditions. As the system moves through today we'll see rain for almost all of the region, but places like Bellingham, Ferndale, Blaine, Birch Bay, Lynden and Sumas are under a WINTER STORM WARNING through 1:00 p.m.

Significant icing may occur in Whatcom County causing difficult travel conditions. Additional ice accumulations of up to one tenth of an inch are expected.




And for the mountains, a WINTER STORM WARNING & WINTER WEATHER ADVISORY in effect through Friday night. Expect heavy snow at times which may cause delays or closures on the passes.

The mountains will see about 4-8 inches Thursday and another 5-10 inches Friday. This will create some problems up there for the next 24-48 hours. Be prepared there could be some closures on I-90.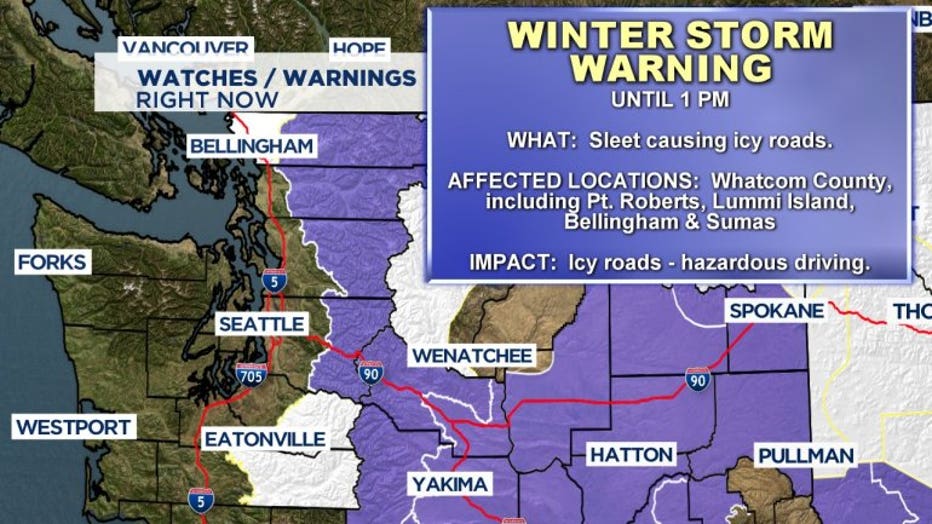 The week ahead:

Thursday & Friday: Rain and breezy conditions at times. Highs near 45 with lows falling back into the upper 30s to low 40s.

Saturday: Mostly cloudy with a chance of showers. Highs land right where we should be for this time of year at 45 degrees.  Lows drop off a bit into the mid to upper 30s.

Sunday: We dry out for partly to mostly sunny skies. Highs in the mid 40s with lows a little colder in the low to mid 30s. The Seahawks host the Cardinals at CenturyLink Field.  Kick off set for 1:25pm right here on Q13 FOX. Game time temps should sit in the low to mid 40s.

New Year's Eve Forecast: Going for a dry fireworks show with temps not bad either in the upper 30s to low 40s, although, clouds will increase throughout the night.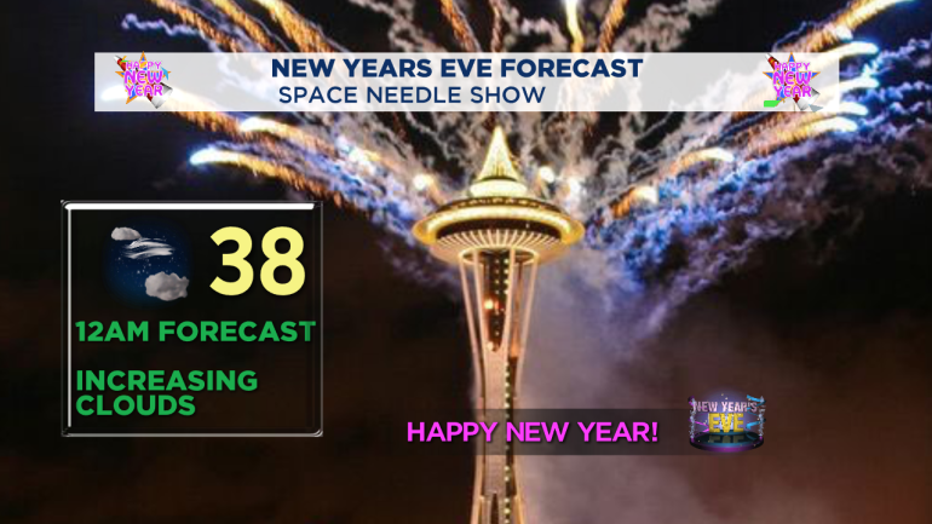 New Year's Day: Mostly cloudy as we start the first day of 2018!  Slight chance of showers with highs in the low 40s.  Overnights fall back into the low 30s.

Tuesday:  Partly cloudy with a chance of showers. Highs a bit cooler near 40.  Lows right around freezing or slightly above near 34 degrees.

Wednesday:  Partly sunny! Highs in the low 40s with lows near 35.

Happy New Year all!