Q13FOX News Investigates: Whistle-blower warns of dangerous highway guardrails here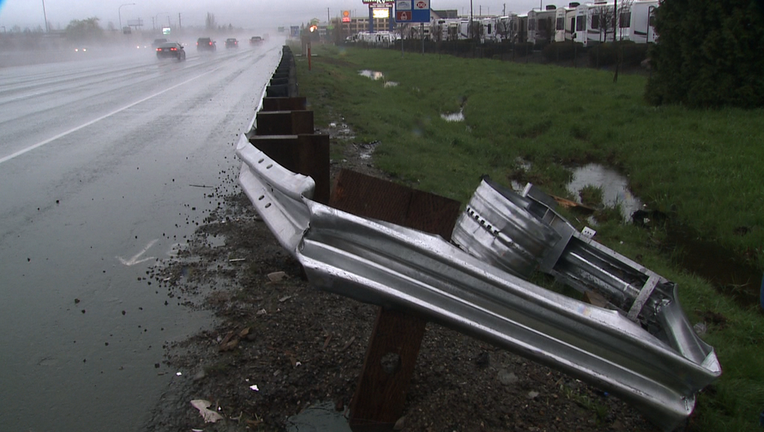 SEATTLE – We pass them every day, most of us without giving a second thought -- highway guardrails, put in place to protect us.

In the event a driver loses control, the guardrail is there to keep the car on the roadway.

The guardrail is more than just a strip of metal -- it is a system that is also meant to protect drivers in the event they hit it head-on, on the yellow and black terminal-head, as it is called.



According to a pending federal whistle-blower lawsuit, one of the most popular rails is failing at an alarming rate -- and all over the country people are being killed, maimed and disfigured.

"I've got widows who have lost husbands. I've got mothers who have had their children butchered. I've got a Marine that cut both his legs off. Its unacceptable," whistle-blower plaintiff Joshua Harman said.

Q13Fox News Investigates hit the road with the certified guardrail engineer and discovered these potentially troubled rails line our local highways. One in Fife had been involved in a recent crash.

"This here won`t do nothing. But when this folds around, that will go through a vehicle," Harman said. "It will slice through the front bumper, radiator, and frame, crumple zone, go straight through car seats, people, individuals. Just like a hot knife through butter."

Last June, firefighters in Gurnee, Ill., extricated a man from mangled wreckage.

On impact, his car flipped around, and the guardrail went through his driver side-door, essentially cutting him in two, Harman said.

The 22-year-old survived but he will never be the same.

Five months earlier, a woman in Kingsport, Tenn., hydroplaned in a rainstorm, but the guardrail didn't stop her car – instead the car flipped and the woman died.

Harman's suit targets Dallas-based Trinity Industries and the company's 'ET-Plus' guardrail with a four-inch head.

In the event of a head-on collision with the terminal head, the energy from the car forces the w-shaped guardrail to ribbon, or flatten out as it is forced through the terminal head, leaving it virtually harmless like a piece of sheet metal.

Harman accuses Trinity of changing its design, making it potentially dangerous.

Harman claims Trinity shrunk the terminal head from five inches to four and changed the internal dimensions without government approval.

So why would Trinity change the ET-Plus?

Harman has his theory.

"Money," he said. "Once this comes out that they did this intentionally and for the sole purpose to sell more heads. It`s all about the money. They don`t want to recall this head. It`s going to cost too much money. They can fight the lives, the lawsuits of the personal injuries in court and come out ahead rather than replace that head."

Trinity denies the allegations and insists its product is safe and told Q13Fox News Investigates: "The Federal Highway Administration reviewed the claims being made and reaffirmed its acceptance of the ET-Plus® System for use on U.S. highways in 2012."

Still, Harman isn't giving up and now travels the country telling his story to anyone who will listen.

He searches for terminal-head guardrail crashes.

In our time together, he found one after another along I-5 and I-405.

But no one from the state could tell us how many of these guardrails are in use.

We brought our findings to the Washington State Department of Transportation.

"We are not aware of any, I am not aware of any in Washington state that have occurred that react the way Mr. Harman alleges, but we are also very concerned about some of the incidences that he alludes to nationwide because this is a nationwide issue," WSDOT design engineer Ed Barry said.

Even so, Barry says, the state has joined a national safety study.

"So we hope to look to that study at its conclusion, to draw conclusions about the functionality of that particular head," Barry said.

The study could take as long as three years to complete.

That's too long for state Sen. Steve O`Ban, R-University Place.

He says his Senate Transportation Committee may investigate on its own.

"That is a pretty serious allegation, that for profitability reasons a hardware producer like Trinity would make this change. We`ll treat that as an allegation at this point and see if there is any substance to it, but we have enough, in my judgment to investigate this separately from Department of Transportation and make sure our roads are safe," O'Ban said.

Trinity said in a statement; "The company has a high degree of confidence in the performance and integrity of the ET-Plus® System."

And the company points out that it was forced to sue Harman for patent infringement after he made a competing terminal-head that copied the Trinity design.

Harman`s company has voluntarily stopped manufacturing its version.

Harman said he worries more lives will be lost if something isn't done -- and done soon.

"I got two little girls, it could easily be, it could easily be one of them. In life you've got the opportunity to make a difference, you make choices in your life, you live by those choices," Harman said.

Although the ET-Plus is used all over the country, only one state, Nevada, has removed the ET-Plus from its list of approved highway safety products.

As for Harman's federal whistle-blower lawsuit, it is still moving through the court system, with the civil case set to begin July 7.

Q13 Fox News Investigates will follow up with Washington state lawmakers to see if our state plans to make any changes.