Q13FOX News Investigates: Fire chief accused of double dipping at taxpayer expense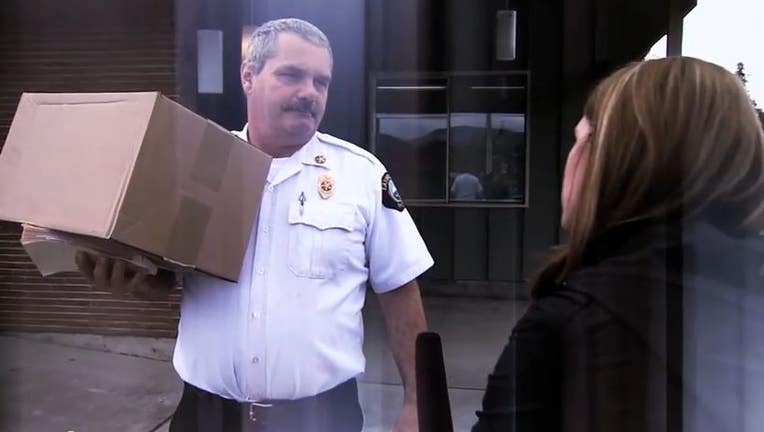 EATONVILLE, Wash. -- Firefighters risk their own lives to save ours -- to protect our homes, our children, our pets – and that self-sacrifice comes with the handsome reward  of a lucrative state pension that can bring a six-figure income to some in retirement.

"These benefits are for folks that do work that`s very physically and emotionally demanding," said state Rep. Tami Green, D-Lakewood, who represents Washington's 28th Legislative District.

Firefighter Robert Hudspeth, who worked the job for more than 30 years, at the age of 55 ended his storied career in 2011 as a battalion chief with the Central Pierce Fire District.

Hudspeth's state pension totals $98,269.56 per year.

But just two weeks after he retired, Hudspeth got a new job in the small Pierce County town of Eatonville as chief of the new fire department.

Hudspeth's $67,860 salary made him the third highest paid employee in the town.  Add his public salary to his pension, and Hudspeth's earnings jumps to more than $166,000 per year.

Q13FOX News Investigates asked Hudspeth if he feels like he is double dipping.

"I'm not going to talk about it," said Hudspeth before declining to talk further.

Q13FOX News Investigates asked Rep. Green if she believed Hudspeth was hitting taxpayers twice.

"I do think he's double dipping," said Green. "All of these positions are publicly funded positions so, frankly, every dime these folks earn is of consideration to the taxpayer."



Hudspeth's pension comes from the Law Enforcement and Firefighters Retirement System -- or LEOFF. Half of a retiree's monthly payments come from the state and their public employer's contributions.

"We did not intend for people to go right back into what we believe are LEOFF-eligible positions, collect their pension and continue to work in the same pension system." said Kelly Fox, LEOFF 2 chairman.

Under state law, if a firefighter or police officer retires and then goes back to work in a full-time, 160 hours a month position, they must suspend their pension payments.

In March, a whistle-blower filed a complaint with the state Department of Retirement Systems asking the agency to look into Hudspeth`s case.

"Our analysis shows the rules are not being broken," said Dave Nelsen with DRS.

"He's doing nothing wrong under the current law. I just think the current law is wrong and we need to amend it," Green said.

Q13FOX News Investigates obtained the state's file on Hudspeth and his Eatonville payroll records.  Town records obtained through a public disclosure request show the chief is a full-time employee. His job description says the same and a city ordinance requires the chief to serve as a full-time employee.

So how can Hudspeth draw his salary and his pension?

A letter from former Eatonville Mayor Raymond Harper spells it out that Hudspeth will work less than 160 hours a month.

"Certainly the position seemed to be established as a full-time position but the agreement between the city and Mr. Hudspeth and the work he's been doing since has been less than full-time and that's what we base our eligibility," said Nelsen.

Records supplied to Q13FOX News Investigates show Hudspeth works 70 hours every two weeks instead of 80 -- just an hour less per day keeping him under the 160-hour limit.

"The fact we change the rules slightly and manipulate them to where it's a part-time position, I don't think that benefits our communities," said Fox, the LEOFF 2 chairman.

It's something the state has cracked down on in the past.

Last year in DuPont, Fire Chief Greg Hull resigned after the state Department of Retirement Systems found he was a full-time employee, but the city designated him as an 'independent contractor,' allowing him to still draw his pension.

"His pension was overpaid; we billed the city of DuPont for all the pension he received," said Nelsen.

DuPont is contesting the  $550,000 bill.

After Hull's case, the state took a closer look at all LEOFF retirees and found 13 more people overpaid to the tune $507,550.88

"Every dime needs to be accounted for," said Green. "This doesn't make me happy."

Green led a legislative effort to crack down on retirement system abuse. Her bill would have forced retirees to suspend pension payments if they returned to work for a fire or police agency, regardless of whether the job was full- or part-time.

It appears Hudspeth in Eatonville didn't want that to happen.  He went to Olympia in January and testified against the bill.

"I do not consider myself an abuser. I do not consider myself a manipulator, and neither does the mayor and the present mayor," said Hudspeth before a committee of lawmakers.

The bill died in the state Senate.

"For Mr. Hudspeth, had that bill passed, then his pension would have been suspended and all he would have been receiving is his salary," said Nelsen.

Q13FOX News Investigates asked Hudspeth if he felt like working for Eatonville and receiving a pension was taking advantage of the system and if he wanted a chance to defend himself.

"I'm not going to take that chance," said Hudspeth.

Q13FOX News Investigates made repeated requests for the city to explain why Hudspeth's hours fall just under the full-time limit, but Eatonville's attorney refused to comment and so did Hudspeth.

"I've been told by the town administrator everything would be going through the attorneys so I'm just going on my orders," said Hudspeth.  "I'm not going to talk about it."

But Eatonville taxpayer Dustin Weise wants answers.

"He could probably give up one or the other and be just fine," said Weise, "instead of milking one cow and holding on to the other for a reserve."

Green said she plans to continue fighting what she calls double dipping.

"Frankly, I think it's been an abuse of the system and I think that our taxpayers really expect us to be good stewards of their money," Green said.