Protesters rally against construction of King County juvenile jail, boast 100+ supporters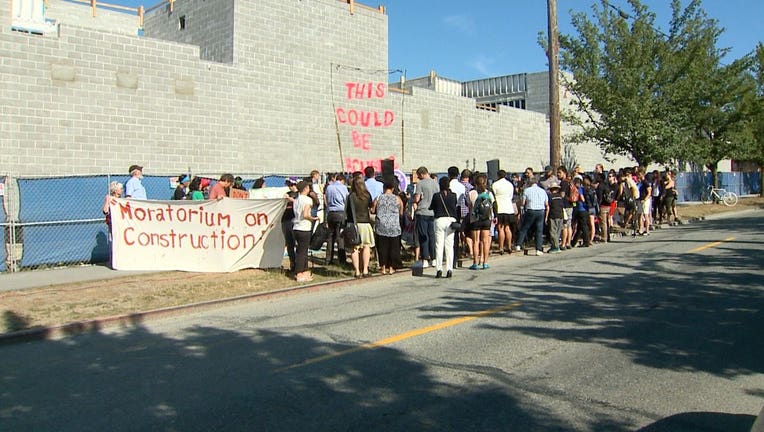 SEATTLE – Opponents of the new King County juvenile justice facility have battled, both inside and out of court for years against the more than $200 million replacement project in Seattle's Central District.

Plus, an appeal working through the state's Supreme Court could mean vital funding for the new facility could be at risk.

Dozens of protesters rallied outside the facility early Tuesday morning.

"We must move into a period of redesign and we must put something in place that heals and does not do harm," said Seattle activist Nikkita Oliver, a former Seattle mayoral candidate.

Oliver emceed the rally outside the construction site for the Children and Family Justice Center, demanding county leaders scrap the facility and claiming it's harmful to the kids they're trying to help.

"It reflects the same ideas of perpetuating a racist system built on the backs on black and brown bodies," she said.

The county says the decades-old facility was rundown – windows and pipes leak, plus families don't have much privacy during what's likely very difficult circumstances.

State law requires the county to build a facility dealing with juvenile justice – the new facility hopes to bring trauma-informed services, child care, new courtrooms and 100 fewer beds than what's currently here.

But, local activists say jail is no place for a child.

The construction of the new facility has seen dramatic protests and court challenges. An appeal is now working through the state's Supreme Court -- and if the county loses, taxpayers could be on the hook for millions of dollars.

"I made a mistake that I will regret the rest of my life that I supported that land-use change," said Seattle City Councilmember Mike O'Brien, who also attended Tuesday's rally.

O'Brien insisted the county can do more to end what he calls systemic racism inside juvenile detention.

"My teenage boys, who are white, will have 1/10th the chance of being incarcerated in the criminal justice system than a similar young boy who is black. Those systems perpetuate themselves in progressive cities like Seattle because leaders in our community believe the system is inevitable," he said.

The county executive's goal toward Zero Youth Detention is still looking for community-based solutions – and public meetings scheduled in the next month are soliciting feedback from the public.

But some activists insist no children belong in jail, saying the harm it causes lasts well into a young person's adulthood.

Protesters at Tuesday's rally said they now have a coalition of more than 100 organizations that have endorsed the no-new-jail moratorium -- including the Public Defender's Association, the Northwest Immigrant Rights Project and several faith-based organizations.