Protesters block entrance to deportation center for immigrants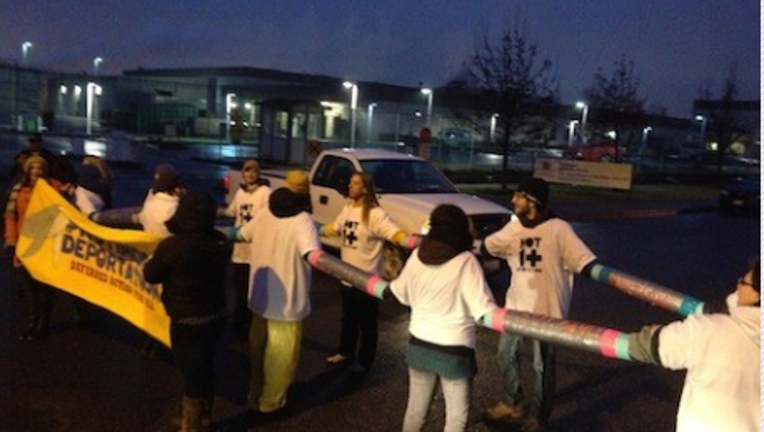 article


TACOMA -- Dozens of protesters blocked access to the the Northwest Detention Center briefly Monday morning in an effort to protest deportations of illegal immigrants.

Immigrants and allies of immigrant issues participated in the protest, called the first of its kind in Washington state. They hoped to stop deportations and the "separation of families" in Washington, an email sent out by the unnamed group Monday morning said.

About 50 people and a small marching band joined in the protest that began at 6:30 a.m. Of those, 12 people banded their hands together with tape, demanding President Obama put an immediate end to all deportations, and provided deferred action for all illegal immigrants arrested and held in United States detention.

Though the group said they were willing to risk arrest with their action, they disbanded peacefully when asked by police to leave at around 9:30 a.m. One person was detained briefly but later released, the Tacoma News Tribune reported.

The protests are part of the national "Not 1 More" national campaign that aims to stop deportations across the country. According to the website Notonemoredeportation.com, many legal Washington residents planned to participate in the event.

"The separation of immigrant families is at an all-time high and it must end," Jolinda Stephens said in an email to Q13 FOX News.

The group specifically protested the Secure Communities deportation program of Washington, which is a state program that has led to the deportation of more than "2,600 Washington state residents," the group said.

"We live in a society that is profiting from detention and deportation of people, breaking apart families," Muphy Stacks, a Washington resident, said. "That is just not right. We can create a just society if we are willing to fight for it."

Individuals held at the detention center are not in the United States legally, and do not posses residence cards.

Before leaving Monday morning, many of the protesters promised to return to the deportation center at a later date for further protests.

A live stream of the event was up at 7:30 a.m. Monday morning.