Protesters accuse Amazon of helping CIA drone strikes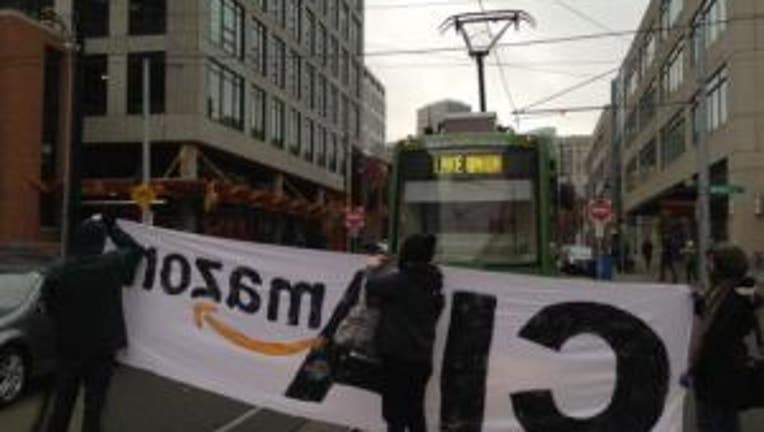 article


SEATTLE -- A group of masked protesters blocked cars and public transportation Amazon office in South Lake Union Tuesday in an attempt  to draw attention to the tech giant's contracting work with the Central Intelligence Agency.

According to The Stranger newspaper, a handful of protesters held a giant banner reading "CIAmazon" in front South Lake Union trolley sometime around 8 a.m. Tuesday morning. The "masked activists" also distributed pamphlets alleging an agreement between Amazon and the CIA that would benefit the security agency's unmanned drone program in places such as Pakistan and Yemen.  The work will help the CIA in it's drone bombings on foreign soil, the protesters alleged.

One of the protesters spoke into a bullhorn, saying "The simple truth is that Amazon, the leviathan that calls Seattle home, is currently building a private data could for the CIA. Amazon is now directly complicit in every new death caused by the CIA."

Amazon founder Jeff Bezos did say Amazon was helping the CIA build a private cloud network in a recent "60 Minutes" interview, but the details of that network were not divulged.

The Stranger reported the protesters were "good-humored" and laughed off insults hurled at them by tech workers.  Along with holding the banner, the group handed out sheets that claimed Amazon was filled with "sweatshop produced commodities," and said "The Rebellion begins today."

The police were not called, and traffic was only blocked for a short time. The Stranger speculated that the protesters were simply acting as "town friar," and only hoped to draw attention to domestic and international spying issues, not seriously disrupt local traffic and business.

The protest marked the second day in a row masked individuals tried to block public transportation, after a similar group tried to delay Microsoft employee shuttles on Capitol Hill Monday.