Prosecutors: Accused Greenwood killer 'disappointed' stolen cellphone was old
SEATTLE -- A 17-year-old teen accused of shooting a Greenwood man for his cellphone allegedly admitted to the crime after his arrest, police said.
Byron White was charged as an adult Wednesday with first-degree murder in the fatal shooting of David Peterson outside a Greenwood store Feb. 23. Police said White showed little remorse for the shooting soon after it happened, telling his friends he was "disappointed" he killed a man for an older model cellphone.
According to prosecutors, White is being charged as an adult under a state law that provides automatic prosecution for 16 and 17 year olds who perform violent crimes. He is also charged with attempted robbery and unlawful possession of a firearm.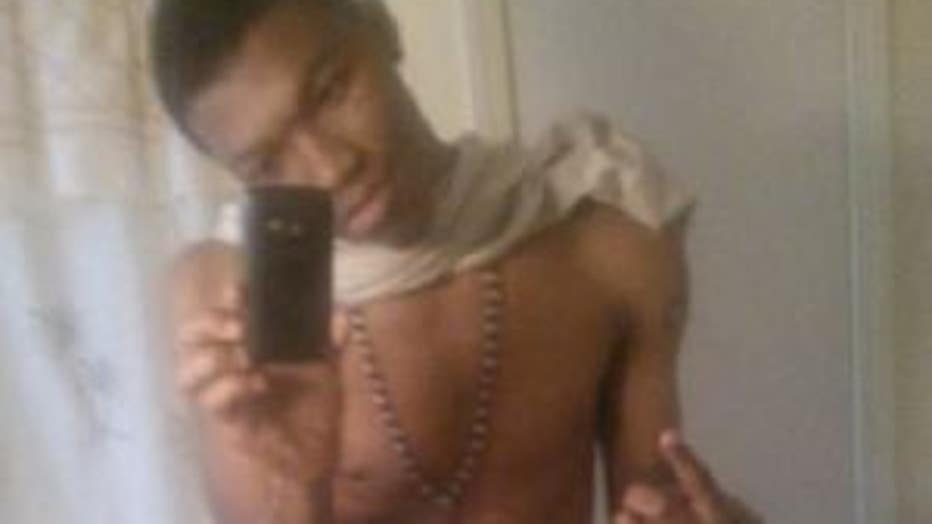 Seattle police have named 17-year-old Byron White as the chief suspect in the killing of David Peterson in the Greenwood neighborhood on Feb. 23. (Photo: SPD sources)
White faces 27 to 35 years in prison if convicted.
White was arrested Saturday at the Sea-Tac International Airport attempting to board a plane. He allegedly admitted to shooting Peterson in the chest on Feb 23 after a brief scuffle over Peterson's cellphone.
According to charging documents, White allegedly approached Peterson around 9 p.m. Feb. 23 in the 8000 block of 1st Avenue Northwest and attempted to steal his cellphone. Police say Peterson, who was out on an after-dinner walk, refused to give White his cell phone and White walked away after a brief struggle.
Peterson called police and was on his phone with 911 operators when he suddenly told operators that White was "coming back." According to court documents, Peterson could then be heard by 911 operators telling White he would not give up his phone. The call suddenly went dead.
According to prosecutors, White shot the man in the chest, grabbed the cellphone and left.
Emergency workers called to the scene found Peterson on the ground dead with a gunshot wound near his heart.
King County Prosectuor Dan Satterberg said the shooting is a horrible fate for a man who was just out on an afternoon walk.
"He was a random victim from a chance encounter with a dangerous young man," Satterberg said.
After the shooting, White allegedly returned to his residence about five blocks away from the murder. There, he met with three companions and told them he tried to steal a phone, but a scuffle ensued. He allegedly told his friends the man saw his face so he had to shoot him.
White showed his friends the phone and allegedly "expressed disappointment it was not a nicer model," police said.
The three companions allegedly all told police about White's confession. White also allegedly confessed to the crime once caught at Sea-Tac Airport trying to board a plane to Atlanta.
White remains in jail with bail set at $2 million. He will be arraigned at 9 a.m., March 17 in courtroom GA at the Maleng Regional Justice Center.