Proposed South Lake Union towers generate controversy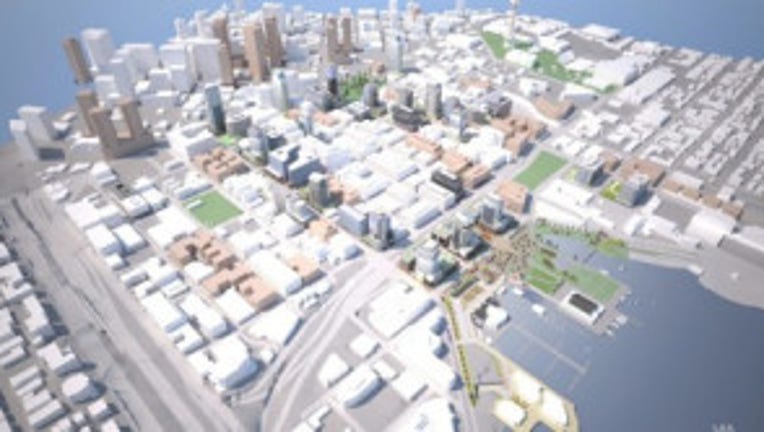 article
SEATTLE -- Debate is increasing over Seattle Mayor Mike McGinn's plans to change the city's shoreline near Lake Union.

McGinn wants to allow three towers, all 24-stories high, along the south edge of Lake Union. He said the towers will stimulate growth in an already thriving neighborhood.

On Thursday, the mayor, the public and the city council met to discuss the South Lake Union development proposal. McGinn is proposing a rezone to the South Lake Union area that would allow for more residential and commercial development, including the three towers. The plan would increase allowable heights in buildings throughout South Lake Union, raising restrictions from four stories all the way up to 24.

Paul Allen's Vulcan Real Estate owns the blocks near the lake that where the new towers would be built.



Many present at the meeting said 24-story towers will drastically change the character of a classic Seattle neighborhood. Brian Rainey, a local resident, said a rezone of South Lake Union could make the area a not-so-pretty place.

"By putting those towers on the lake like we are doing, we are making it a very unfriendly place," Rainey said.

Former city councilmember Peter Steinbrueck is one of the area residents fighting the proposed upzone. He is working as a paid consultant for the neighborhood group opposed to the plan.

"We're getting carried away with this notion that density is the cure all for everything," Steinbrueck said.

Proponents of the rezone said if the city doesn't allow more growth along South Lake Union, the growth will move somewhere else.

"We have a commitment under the growth management act to take additional population, additional jobs," said Seattle City Councilmember Richard Conlin. "If it's not in South Lake Union, which is our urban center, then it has to go somewhere else."

Lori Mason of Vulcan Real Estate  said as part of the deal for lakefront towers, Vulcan Development will provide a public benefits package including affordable housing and social services.  But Steinbrueck and others said Vulcan's primary concern is profit.

"This is a Vulcan-driven rezone," Steinbrueck said. "And it has been all along, and they have been very effective."

Some Seattle City Councilmembers, including Tim Burgess, are calling for an independent study of the plan before it moves forward.