Proposals would allow cities, counties to hike car tab tax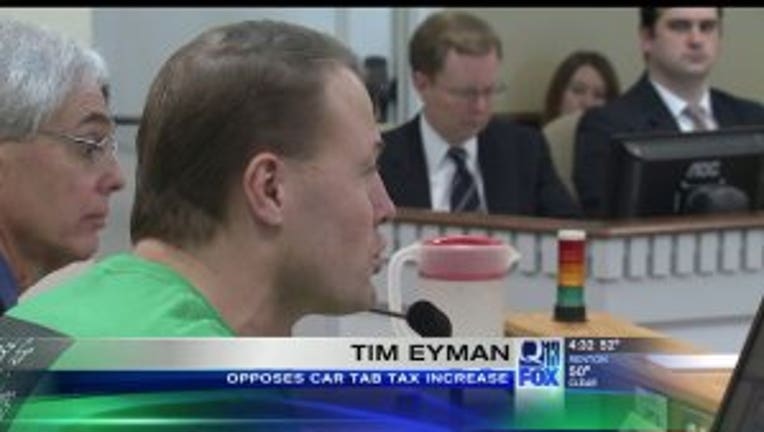 OLYMPIA -- State lawmakers debated a set of bills Monday that would allow cities and counties to raise the car tab tax for local road and transit projects.

This would be a complement to last week's $10 billion transportation package proposed by Democrats to finance large statewide projects; part of the funding would come from a 10-cents-per-gallon increase in the gas tax.



Anti-tax crusader Tim Eyman, who got his start with Initiative 695 fighting car tabs, was at the state Capitol on Monday railing against the latest tax plan.

"You keep coming back to this one, as if you just want to kind of prove to the voters that we (state government) can do things that even you guys (voters) don't like, but we can get away with it because what we are doing is just letting local governments do it," Eyman said.

The bills being considered would allow local governments to add another $20 to the car tab tax for local road projects, and they would allow King County to raise car tabs even more for bus service.

"We're facing … a $1 billion backlog of transportation projects," said Ryan Mello of the Tacoma City Council.

The co-sponsor of the car tab bill is state Rep. Marko Liias, D-Edmonds.  "This would give cities and counties the tools they need to pay for what we call the first and last mile," said Liias. "The local street that's in front of your house and connects you to a state highway, that's a local responsibility," he said.

Under the proposal, cities and counties could add a $20 fee per car without a public vote for local projects.  And King County would be able to charge an additional .7% vehicle fee for bus service – also without a public vote.

"We have to trust that our city council members and mayors, our county council members across the state, they know what's best in their community," said Liias. "They know what they can ask the citizens to take on and when they need the citizens to weigh in."

Eyman objects to any increases that don't involve a vote of the public.  "The only thing we are debating here is what's the money you can automatically take without ever involving the citizenry," Eyman said.

The bills would allow Pierce and Snohomish counties to raise taxes for bus service as well, but unlike King County, they would have to seek voter approval.  And that's really because of a technicality more than anything. The way Community Transit is constituted in Snohomish County requires a public vote for a car tab increase.

And Piece County is seeking a sales tax increase for its transit agency. That, too, requires a vote of the people.