Proponents will file an appeal after judge partly strikes down $15 wage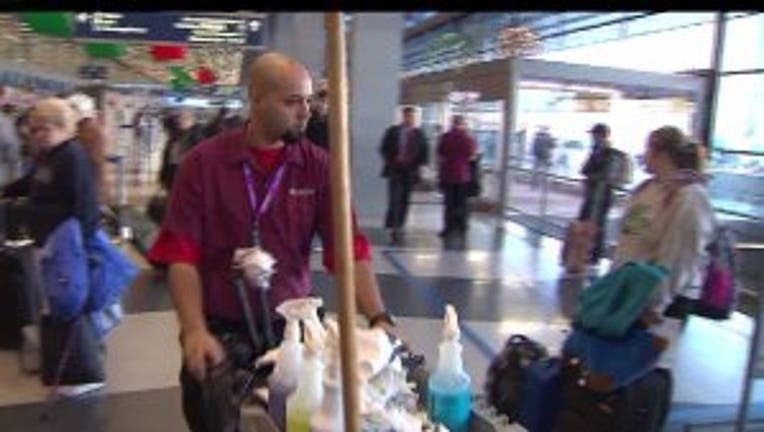 article
SEATAC- A judge  knocks down a big portion of the $15 an hour minimum wage initiative for SeaTac workers leaving thousands of people disappointed.

The voter approved minimum wage increase will kick in Wednesday. But King County Superior Court Judge Andrea Darvas  ruled Friday that the ordinance cannot be applied to airport workers but only to nearby hospitality and transportation employees.

Alex Hoopes works at Sea-Tac Airport as a baggage handler, he is a contractor making $9.50 an hour.

"$15 an hour is not asking too much," Hoopes said.

Hoopes is one of about 4,700 airport workers losing out. He says $15 an hour would have mean't a decent retirement one day so the latest ruling is hard to stomach.

"Yes I feel disappointed," Hoopes said.

Only workers outside the airport at places like hotels and parking lots will see the bump in pay.

The court order stated that the Port of Seattle has exclusive jurisdiction to all operations of the airport, barring any local ordinance like prop 1 from being enforced.

Companies like Alaska Airlines agree, they have been fighting to get the wage hike overturned. The airline company emphasized they recognize that pay inequality is a serious problem but also went on to say in part.

"This lawsuit is not about $15 an hour. It's about an initiative that violates state and federal law. While the ruling affirms that, we also believe education is the key part of the solution to pay inequality."

The group, Yes For SeaTac, is on the other side of the battle it says no one should be excluded and they are planning to appeal the ruling.

"It is unfortunate that Alaska Airlines is using its record profits to try every tactic in the book to deny fair wages to thousands of hard working people in Seatac's profitable hospitality and transportation industry," spokesperson Heather Wiener said.

"I feel the fight isn't going to end and it shouldn't end," Hoopes said.

Hoopes wishes the will of the voters will ultimately prevail because right now as a contractor he is making a lot less than others doing the same job.

"You have companies that are paying $27 to $35 an hour that is cruel I feel that is totally wrong," Hoopes said.

About 1,600 workers will see the pay hike. Yes For SeaTac says they will file an appeal on Tuesday.

Port of Seattle says they have never taken a side on this issue but they do believe they have exclusive authority to operate the airport.