Procession route announced for fallen Pierce County deputy


TACOMA, Wash. -- Details have been released on the memorial service procession route for slain Pierce County Sheriff's Deputy Daniel McCartney.

The procession will begin at approximately 11:00 a.m. and it's expected to take about 45 minutes. Q13 FOX and Q13FOX.com will carry the procession and memorial service live.

Here are the streets that will be traveled.


Officials are encouraging the public to line the route to show their support and give their respects to the family of Deputy McCartney.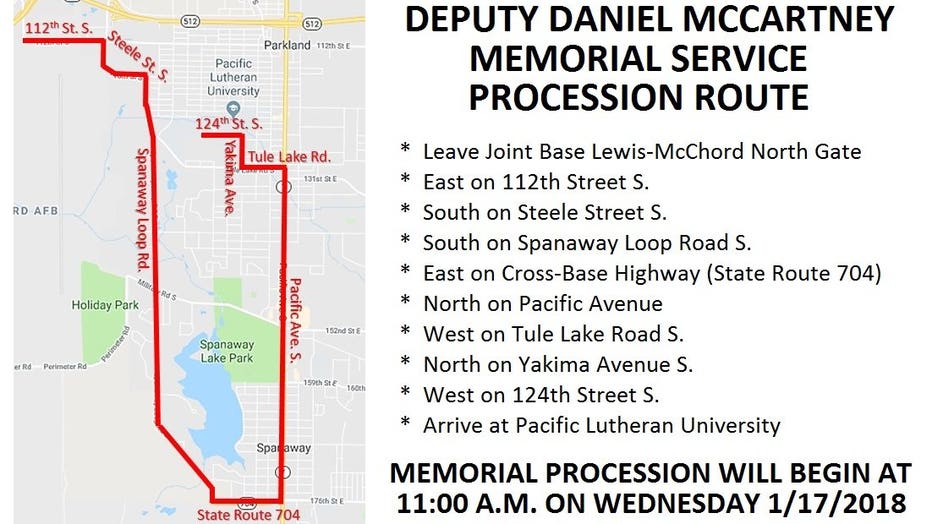 "Please come out - we can't put into words how much it means to the family and to all of the first responders who will be participating in the memorial," the Sheriff's department posted Sunday morning on Facebook. "You will learn more about our department and public safety in those 45 minutes than in any other story or photo we could ever share on this page."




The Celebration of Life Service for McCartney will be held from 1 - 3 p.m. at Pacific Lutheran University's Olson Auditorium. It can be seen live on Q13 FOX and Q13FOX.com.

The public is asked to park at the Church of All Nations located at 111 112th St E, Tacoma.  Shuttles will be leaving the church and heading for the memorial starting at 11:15 a.m.




Sheriff's spokesperson Det. Ed Troyer said anyone who would like to help McCartney's family can donate to the Deputy Daniel McCartney Legacy Fund at Tapco Credit Union, or by donating online through Crime Stoppers of Tacoma-Pierce County.

McCartney, a 34-year-old Navy veteran and married father to three young boys, was shot during a foot chase late Sunday as he responded to a home invasion near the small community of Frederickson, 15 miles southeast of Tacoma.

One suspect in his mid-30s was found dead at the scene, and another got away, authorities said. On Monday, Troyer said 32-year-old Frank William Pawul had been taken into custody in the Shelton area on unrelated felony warrants.




A state trooper in the area spotted Pawul, who gave a false name when approached, Troyer said. Once authorities learned his real name, Troyer said he was taken to jail on the warrants and further investigation tied him to the shooting. Two weapons also were found at the scene, Troyer said.

Pawul is expected to make his first court appearance Tuesday afternoon in Tacoma.

The Associated Press contributed to this report.