Presidents Day storm brings record rain, flooding for the NW
SEATTLE-- An atmospheric river pointed at Western Washington brought record rain and rapid rises to 10 rivers in the Evergreen State yesterday. You wouldn't know it from drizzly Seattle on Monday. But, north of Everett the rain was nearly non-stop all day long. Record one-day rain totals for February 15th were set in Bellingham and Quillayute near Forks. The Bellingham Airport reported 1.64" of rain, breaking the old record of 1.02" set back in 1986. The north Washington coast got hammered with a whopping 3.34" reported near Forks. The old record was an already impressive 3.05" which held for 35 years.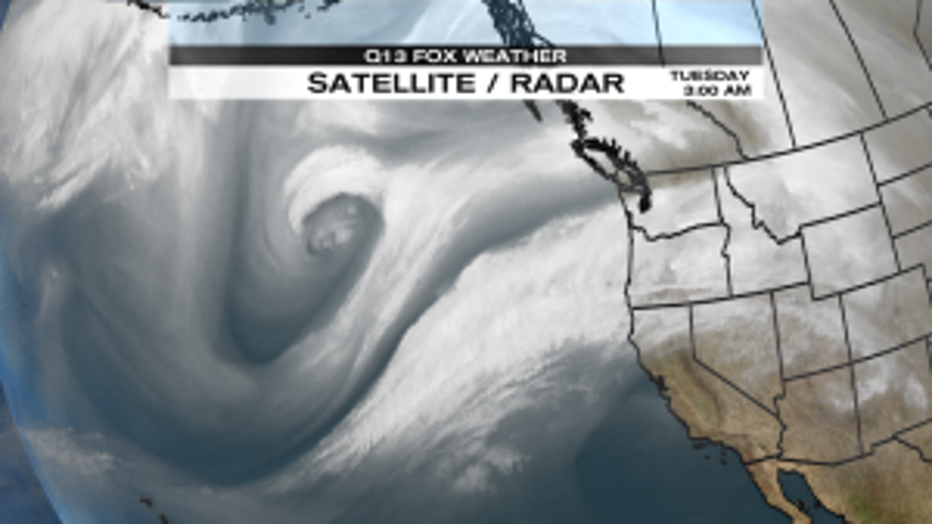 An atmospheric river or "Pineapple Express" is now pointed towards Oregon instead of Washington.


The stalled front was tapping into some tropical origins near Hawaii which meant rain for all but the highest mountain peaks. Rain that comes from so far south is often called a "Pineapple Express." This warm rain on snow is a good way to get rapid rises in our rivers here in the Northwest too. With rain from 7,000 feet down to sea level it's no wonder we have flood warnings still on seven  rivers in Western Washington.  Coming out of the Olympic mountains, the Bogachiel and Skokomish remain above flood stage. Draining the Cascades the Skykomish, Snohomish, Snoqualmie, Stillaguamish, and Tolt also are under a flood warning. Falling water levels are expected as we dry out today. Already the South Fork of the Nooksack in Whatcom Co., Pilchuck in Snohomish Co., and Cowlitz in Cowlitz Co. have seen their water recede back to within their banks. If you encounter a water covered roadway, follow the advice touted by the Nat'l Weather Service of "Turn around, don't drown!"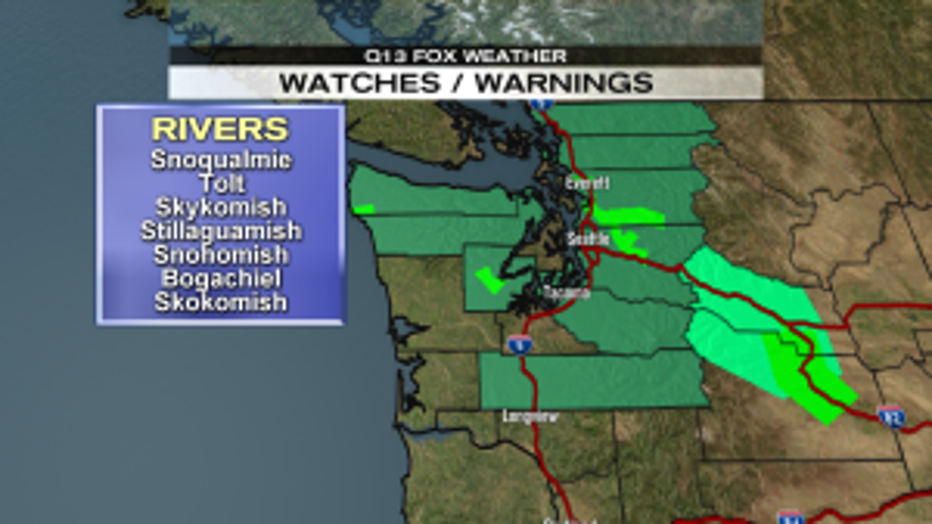 7 rivers remain at or above flood stage this morning. They'll be receding through the day.


The fire hose of moisture is moving south. Today it's taking aim at Oregon-- but it's expected to snake back north by this evening with some showers. The front will hold to the north up in British Columbia for most of Wednesday before the whole front looks to move through Wednesday night into Thursday. Thursday looks like our coolest day of the week with high temps of 49. That's only one degree below normal, but it might feel chilly since we haven't been seen an afternoon high temperature that cold in ten days. And the colder temps will mean we'll see more snow in the Cascades instead of rain.