Presidential debates vs. live sports: It's no contest … for the debates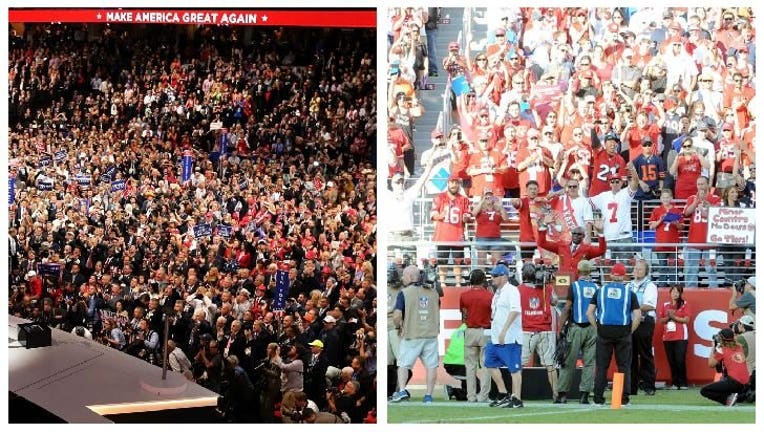 article


Republican presidential nominee Donald Trump has over the past few days made statements about his displeasure with two presidential debates being scheduled opposite NFL games.

He's claimed that the debate schedule was "rigged" to help his main opponent, Democratic nominee Hillary Clinton, by possibly depressing the audience for those two debates.

TV by the Numbers decided to check the audience for the 2012 debates. It's true that the two debates that aired opposite NFL games had somewhat smaller audiences — but it's also true that in both cases, the number of people watching the debates far outweighed that of the games.

The two debates that aired against NFL games in 2012 were the vice presidential debate on Thursday, Oct. 11 and the final presidential face-off on Monday, Oct. 22. On both nights, baseball playoff games also aired — TBS and TNT on Oct. 11 and FOX on Oct. 22; FOX did not air the Oct. 22 debate.

The first two presidential debates averaged 58.71 million viewers across ABC, CBS, FOX, NBC, CNN, Fox News and MSNBC. Add in PBS, Spanish-language channels and other cable outlets and the average rises to 66.4 million.

The vice-presidential contest delivered 51.2 million viewers across all coverage, and the third debate drew 59.2 million. The VP debates (a Sarah Palin-fueled spike in 2008 excepted) are typically the least-watched of any election cycle.

The debates still posted far greater numbers, however, than the sports programming opposite them. The 2012 VP debate's audience of 51.2 million was almost four times greater than the combined numbers for "Thursday Night Football" (5.65 million) on the NFL Network and baseball playoff games on TBS (5.16 million) and TNT (2.27 million).

The Oct. 22 presidential debate's 59.2 million viewers — without FOX, remember — was more than three times the number of people who watched FOX's MLB coverage (7.16 million) and "Monday Night Football" on ESPN (10.66 million).

It's fair to expect that the debate scheduled for Oct. 9, 2016, opposite NBC's "Sunday Night Football," will suffer some in the ratings vs. the others. "SNF" averaged 21.3 million viewers a week last season; the Oct. 11, 2015, game drew 19.6 million. The effect of "Monday Night Football" on the Sept. 26 debate probably won't be as great, since all the channels that normally would air the debate will still be in play.

In both cases, it's also likely that the combined audience for the debates will be much bigger than whatever sports air opposite them.