President Obama spends Sunday fundraising in Seattle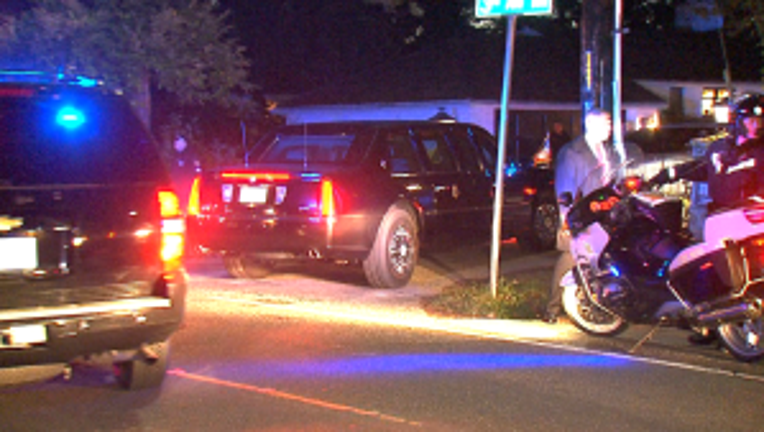 article
SEATTLE -- It was a picture perfect landing on a picture perfect Pacific Northwest day.

President Obama is in town and that always makes things interesting.

After touch down at 4:15pm Sunday, Mister Obama and his motorcade made its way north to the home of philanthropists Tom and Sonya Campion.

They hosted a fundraiser for the Democratic National Committee and the Democratic Congressional Campaign Committee.

The motorcade was greeted by hundreds of people just hoping for a quick glimpse of the most powerful man in the world.



"I think this is a once in a lifetime thing to be able to see the President.  We just live right down the street so when we heard it was a Presidential visit we got really excited I mean to be able to see the President was so cool," neighbor Heather Carlson said.

"You don't get the opportunity this often where he is driving right down our street essentially and I think it's a really good lesson in civics," neighbor Tami Hutchison said.

And there were protesters too, a large group demonstrating against the controversial Keystone XL Pipeline.

"We're here, as with every appearance Obama has made in the last few years to show him really clearly the commitment we have to this fight and to make sure he makes the right decision in the next few months," 350 Seattle protester Adam Gaya said.

The president was at the Campion home only about 90 minutes then it was off to his second fundraiser of the night held at the home of former Microsoft executive Jon Shirley.

Shirley, an aggressive supporter of the president, gives generously to democratic candidates and the party too.

The President has been to the Shirley home before and neighbors here disagree about his visit.

"I came here to see the presidential motorcade because it`s really fun," neighbor Ellie O'Hara said.

"I really think he`s needed back in the White House and he should be reading every page of the affordable care act so that he knows exactly what every part of it is. Instead, he`s out campaigning again," neighbor Gretchen said.

The president was joined at the second event by House Minority Leader Nancy Pelosi and Governor Jay Inslee.

While the President's job performance and popularity ratings have been sliding over the past several weeks with the problems with the Affordable Care Act he remains a solid fundraiser.

Those efforts will continue Monday in California before he returns to the nation's capital on Tuesday.