Portland Snowstorm: Even the tow trucks getting stuck, police say
PORTLAND, Ore. -- For the second consecutive week, a snowstorm slammed the Portland area Wednesday, creating  havoc with traffic and prompting some drivers to abandon their cars on snow-covered highways.

KPTV in Portland reported that within a few hours Wednesday afternoon, traffic was gridlocked in and around Portland, with lengthy delays on all major roadways. School buses were reportedly stuck on roads.

The Oregonian/OregonLive reports (https://goo.gl/wHP1T3 ) buses from Portland Public Schools were trapped in traffic and that there had been an unspecified number of buses involved in crashes. Interim chief operating officer Courtney Wilton told the newspaper he had not heard of any injuries in those accidents.

Caution: Following video contains explicit language



A school bus carrying Scouters Mountain Elementary students spun out amid snowy conditions on Southeast 152nd Drive near Misty Drive in Happy Valley. Principal Kevin Spooner says all children were safe.




The National Weather Service in Portland said the storm was expected to drop 2 to 4 inches of snow in Portland, with possibility of 5 inches in outlying areas, especially south of the metro area.

The edge of the storm was expected to move as far north in Washington state as Lewis and Thurston counties Wednesday night.




In Vancouver, Wash., Washington State Patrol Trooper Will Fin tweeted that on both directions of State Route 14 east of I-205, "multiple vehicles off road -- SUV's & 4x4 trucks, 4 wheel drive on ice doesn't work!"




The Portland Police Bureau tweeted just how bad it had gotten.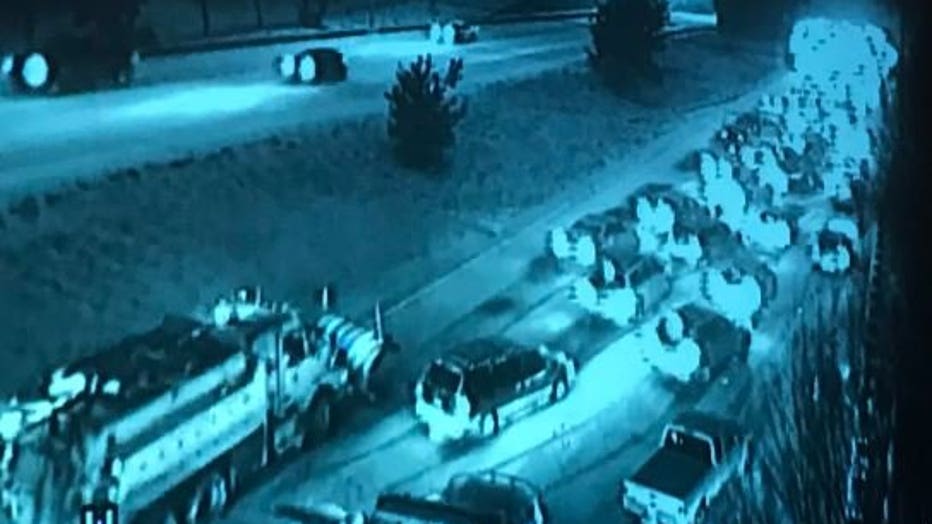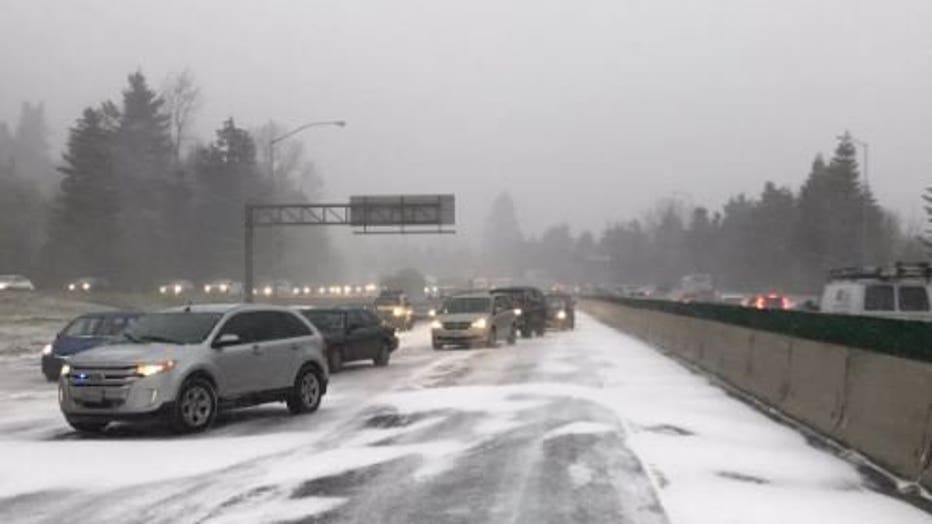 (Photo: Oregon Dept. of Transportation)

Three avalanches shut down Highway 20 near Hoodoo, Ore. No injuries were reported.




The Columbia River Gorge, just east of Portland, was getting hit hard. Officials reported at least five vehicle crashes along a 21-mile stretch of Interstate 84, which runs through the scenic gorge. The accidents were between the towns of Hood River and The Dalles.

The National Weather Service has issued a winter storm warning for the gorge calling for up to 8 inches of snow and gusting winds.

An avalanche plowed onto a main highway crossing the Cascade Range in Oregon, and then a second one occurred nearby, forcing closure of the road while snowplows cleared it, the Oregon State Police said on Twitter. There were no injuries.

On the east side of the Cascades, up to 13 inches of snow were predicted for Bend, closing schools and other facilities. Other parts of Oregon's eastern half were also expected to get a foot or so of snow.

Up to 5 inches of snow were expected in the Portland area by midnight.

Schools, government offices and other facilities were closed as the storm moved in.

The winter storm crept south up the Willamette Valley, the most populous part of Oregon, before reaching Portland, first hitting Eugene and then Salem.