Poor air quality: Even healthy adults advised to stay indoors, avoid walking outside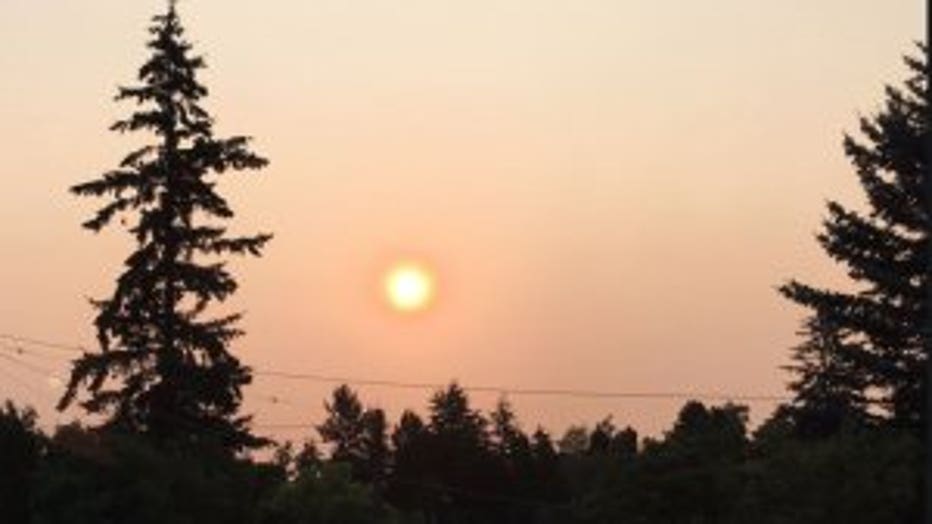 Wildfire smoke from British Columbia creating haze across Western Washington August 13, 2018. (Photo via Chief Meteorologist Walter Kelley.)


SEATTLE -- Public-health officials are warning of unhealthy air across many parts of the Pacific Northwest as wildfires send thick smoke across the region. Clean air officials on Wednesday recommended even healthy adults stay indoors to avoid the smoky air.

Local and regional wildfires are causing smoke and haze in Washington, prompting air quality alerts for much of the state.

The National Weather Service issued an air quality alert for much of Central and Eastern Washington and northern Idaho through Wednesday. The service says unhealthy air will be common because of the large wildfires currently burning in the region.

Meteorologists also said poor air quality would continue in Western Washington.

People should limit outdoor activity when possible, officials said. Smoke can irritate eyes and worsen problems for people with pre-existing health conditions.

The Puget Sound Clean Air Agency even recommended that healthy adults with no breathing or heart issues avoid walking, running or cycling outside. The agency updates a graphic here for each King, Kitsap, Pierce and Snohomish counties.


Air quality was at unhealthy levels for sensitive groups including children, the elderly and people with respiratory illness Wednesday, several clean-air agencies in Puget Sound said.

In Oregon, fires in Washington state and in the southern part of the state were also causing smoky, hazy conditions Tuesday.

The Oregon Department of Environmental Quality on Tuesday issued several air quality advisories. It says air quality was unhealthy in the Portland region, as well as in areas including Pendleton, Grants Pass, Medford and Pendleton.

In Beaverton, schools suspended outdoor athletic activities because of the unhealthy air quality.

Thirteen large wildfires have burned more than 211 square miles in Washington state, while 10 large fires have scorched more than 256 square miles in Oregon, according to the National Interagency Fire Center. About 600 wildfires are burning across British Columbia.