Police: Woman strangled, boyfriend under arrest
RENTON – A yet to be identified 20-year-old man called 911, telling operators that he killed his girlfriend and that he booby trapped his apartment with explosive gas.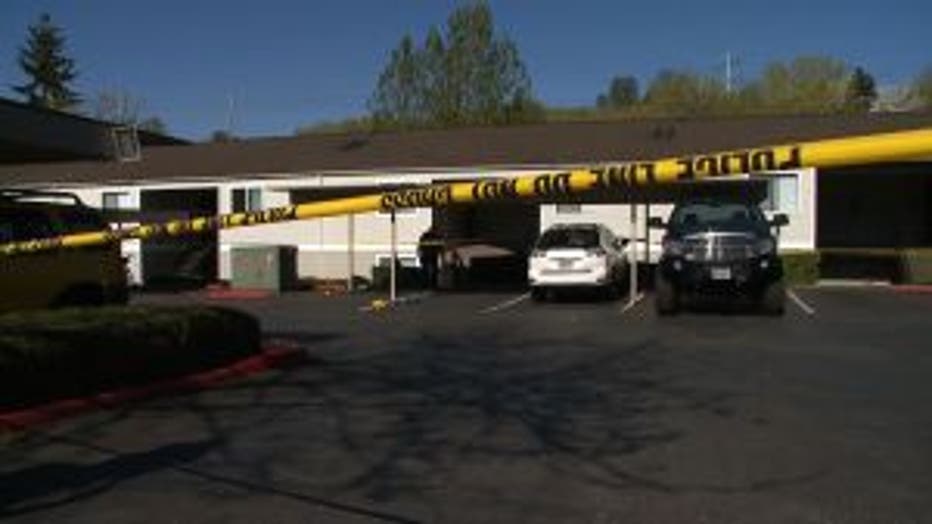 It all happened at the Berkshire Apartment complex on Eagle Ridge Drive just before noon on Saturday.

Cops say the man told 911 that he filled his apartment with propane and wired it to blow up if anybody went inside, but so far police have not found any explosives. Police also say the man told the operators that he was armed with a gun and he was waiting for police to arrive.

"Instead of complying with their directions to get on the ground and show his hands, he fled back into the apartment," said Detective Robert Onishi from the Renton Police Department.

Officers fired beanbags through the suspect's windows in an attempt to air out any possible gas.

"Broke out the back window as well to get cross ventilation," said Onishi. "At that point the male walked out the door with his hands over his head and was taken into custody."

That's when investigators found the suspect's 20-year-old girlfriend in the bedroom apparently strangled to death.

Police also believe the 20-year-old suspect may have tried to get police to shoot and kill him.

"One of our concerns was that maybe a lot of this was talk in an effort to get us to the point where we feel that to deal with the threat we had to shoot him," said Onishi. "Fortunately we were able to end this without anything like that happening."

The identity of the murdered woman and the suspect has not yet been released. The suspect has been booked into King County Jail for Investigation of Murder, Domestic Violence, Renton Police reported.