Police: Tacoma officers shoot, kill man 'behaving erratically' and firing at them


TACOMA, Wash. - Tacoma Police officers shot and killed a man on Sunday afternoon in a residential neighborhood after receiving multiple calls from people living in the area of a man behaving erratically and armed with a firearm.

"We were on the inside and it sounded like someone was banging pots and pans, some aluminum something," said Eyria Eatmon who recalled hearing the gunshots.

"I was upstairs in my room, I just got out of the shower and I heard a bunch of shots going off and I called the police," said Autumn Rose who lives one street over from where the shooting happened. Rose says she was one of the many people that called police after hearing dozens of gunshots.

"At least 12. At first, it started in slow increments and then it picked up," said Rose.




Tacoma Police say they responded to multiple calls from people living near the 5600 block of South Lawrence Street who reported a man with a gun behaving erratically.

"I believe he was yelling and screaming," said Loretta Cool, public information officer with Tacoma Police.

She said when police officers arrived they confirmed the man did have a gun.

"The officers tried giving him commands to drop the weapon, he did not. I believe he fired rounds, officers fired back striking him, medical aid responded and he was pronounced dead at the scene," said Cool.

Cool says the man appeared to be Hispanic in his 40s. She says the man's connection to the neighborhood and why he was in the area is unclear this early in the investigation.

"Hearing all the cop cars and seeing that they actually shot somebody, yeah, that's kind of scary," said Eatmon.

Bullet casings litter the streets in front of homes where children's toys lay after an afternoon of gunfire in this quiet neighborhood.

"It makes me fearful for the children," said Rose.

She says with an elementary school around the corner and families home at the time it's a miracle no one living here was hurt.

"I just want the violence to stop," said Rose.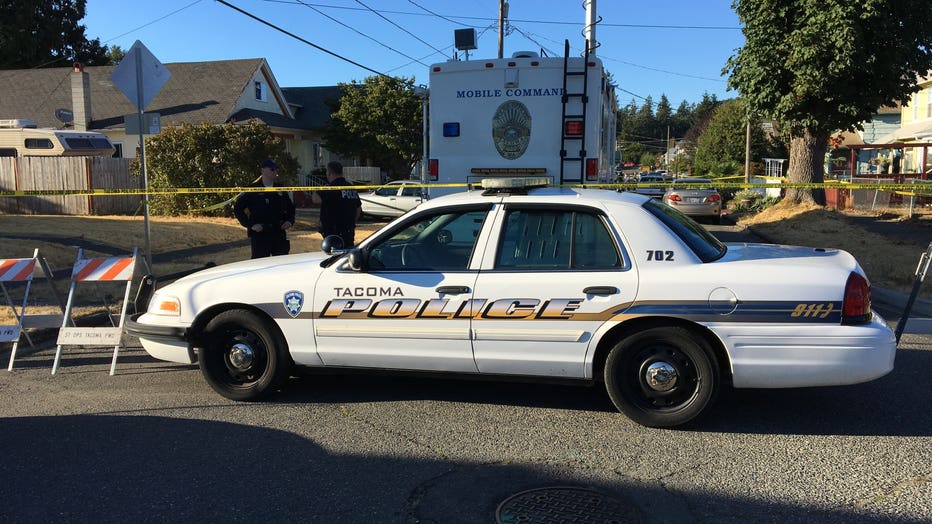 Tacoma Police say bullets hit several homes on either side of the street but no one inside the homes were injured.

Officers with Tacoma Police do not wear body cameras, no footage of the incident was recorded.

According to Tacoma Police the three officers involved in the shooting are a 35 year old male, employed with the City of Tacoma for approximately 3 years; a 38 year old male, employed with the City of Tacoma for approximately 14 years; and a 47 year old male who has been employed with the City of Tacoma for approximately 22 years.

They have all been placed on paid administrative leave per department policy.

The male suspect has not been identified at this time. Tacoma police say the Medical Examiner will release his identity when appropriate, the investigation is still in the preliminary phase.