Police seek public's help in identifying suspected child pimp


TACOMA -- Pierce County sheriff's detectives say a man tried to pimp out a child in a Walmart parking lot in South Hill and they are seeking the public's help in identifying him.

Surveillance cameras caught the whole thing. In the video, you can see the suspect walking out of the store in South Hill. The suspect was wearing a #35 Seahawks jersey, tan pants and a dark beanie.

He met up with a little girl about 9 years old, wearing bright blue pants. She had been waiting on a bench with an unidentified woman.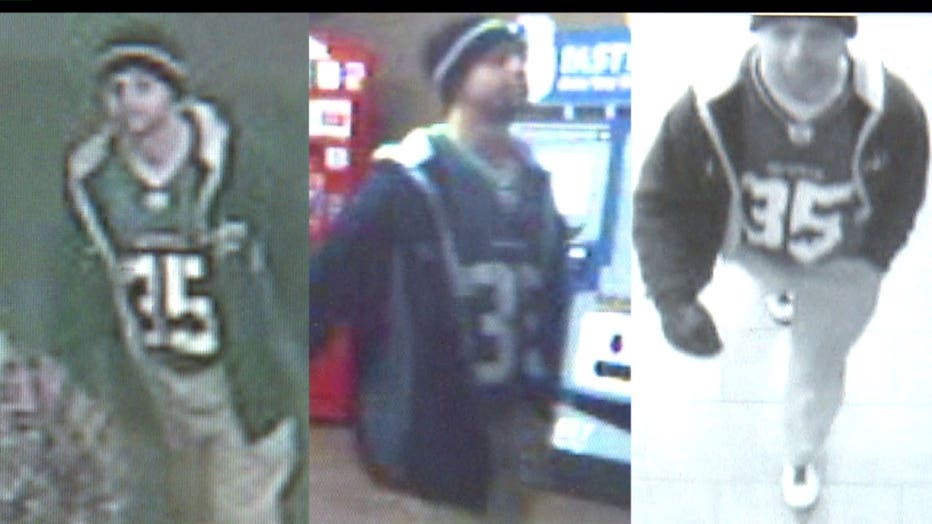 Detectives say the woman is not a suspect, but she was there when the man hit the parking lot to pimp out the little girl.

"From reviewing the surveillance video, and from multiple 911 calls we received, we see the suspect casually approaching multiple different vehicles," said Lauren Wallin of Crime Stoppers of Tacoma-Pierce County. "He's asking them if they'd give him money in exchange for having sex with this young girl."

The man worked quickly moving from person to person. Several witnesses say he came up to them that night.

Detectives say he finally took off from the parking lot with the girl after one of the witnesses confronted him.

"Anytime we have an unidentified child and an unidentified suspect who's out in a parking lot and he's offering for people to have sex with this child, we are very concerned and we want him in custody right away," Wallin said.

Detectives believe the suspect is white, in his 30s, 5-foot-8 to 5-foot-11, with a medium build, brown hair, and what looks like a "chin strap" type beard.

The #35 Seahawks jersey could also be key in identifying the suspect.

If you recognize him or know anything that can help detectives identify that young girl to make sure she's safe, call an anonymous tip into Crime Stoppers at 1-800-222-tips.