Police searching for Mazda in hit-and-run that seriously injured pedestrian


SEATTLE -- Seattle Police are asking for the public's help to find a hit-and-run car that seriously injured a 63-year-old man who was walking across the street in a crosswalk. The car is a beige 1998 Mazda Protégé with Washington license plate BGY9857.

Detectives say the vehicle will look similar to the cars in the photo.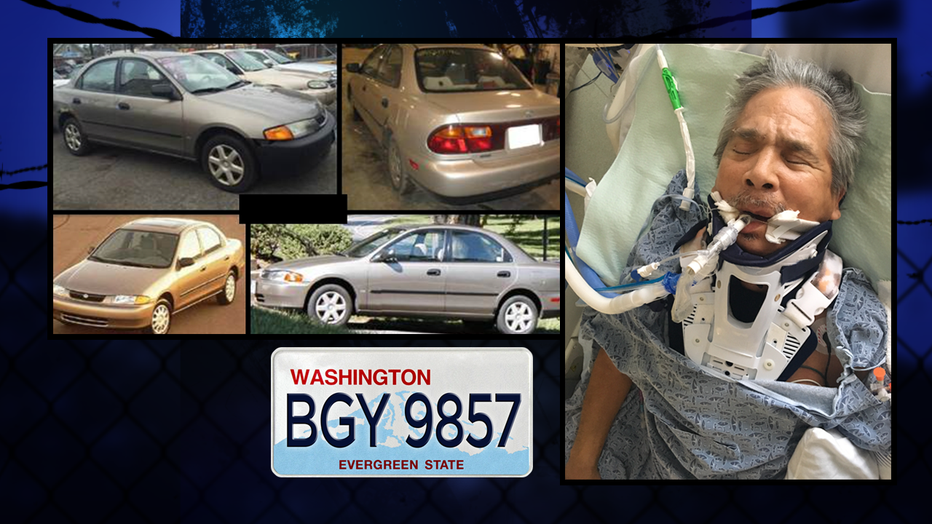 On Sunday, March 11, at approximately 6:20 p.m., several witnesses reported that the southbound Mazda entered the intersection of 12th Avenue South and South Charles Street against a red traffic signal,after passing other vehicles that had already stopped for the light.

The witnesses reported that the Mazda accelerated through the intersection and struck 63-year-old Terry Johnson in the southernmost crosswalk. The Mazda and its four passengers immediately fled from the collision, southbound on Golf Drive South.

Terry, who moved to Seattle two years ago from Alaska, is still in Harborview Medical Center more than a month later with a traumatic brain injury and multiple fractures to his spine, face, ribs and legs.

"There's a couple of times where we didn't think my uncle was going to make it," said Misty Mounts.

Terry is a volunteer at the men's shelter at the Seattle Indian Center and a long-distance bicycle rider. He was walking home when he was hit.

"He's a free spirit, likes to go to Pow Wows, hang out, listen to music, make friends," said Mounts.

The owner of the Mazda vehicle has been identified and contacted but has refused to cooperate with the investigation, and police have been unable to find the vehicle.

"It's scary knowing somebody is out there driving around and doesn't even care if they hurt somebody," said Mounts.

Police believe the suspect is hiding the vehicle and may have tried to repair any damage to it. Detectives need that vehicle in order to file the strongest case possible against him.

"We don't know where the vehicle is. He's hidden it out. Maybe he's taken it to a repair shop," said retired Det. Myrle Carner.

Crime Stoppers is offering a cash reward of up to $1,000 to anyone who helps officers locate the car.

"Everything about this case hinders around the location of this vehicle, we really need it," said Carner.

Please call 911 or Crime Stoppers at 1-800-222-TIPS if you see the vehicle or use the P3 Tips App on your phone. It is anonymous and there is a cash reward of up to $1,000 for information that leads to the location of the vehicle.