Police on high alert ahead of planned May Day marches, protests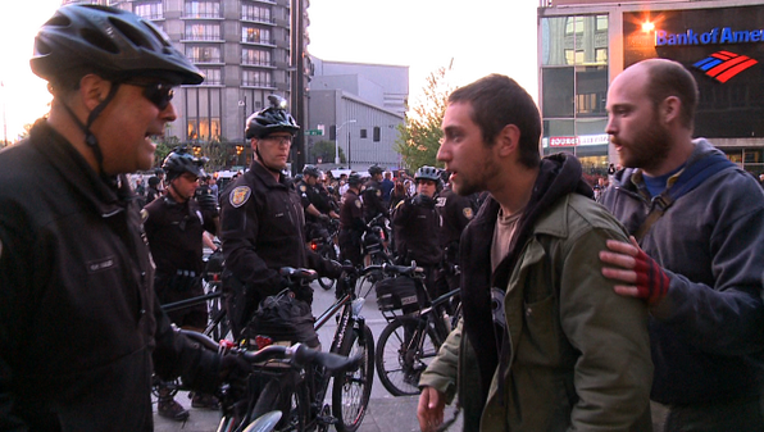 article


SEATTLE -- As thousands of marchers plan to descend upon Seattle streets Thursday to raise their voices toward a variety of causes, Seattle police again find themselves in the interesting position of trying to plan for the unexpected.

Seattle Police Interim Chief Harry Bailey will meet with a city's public safety council committee Wednesday to discuss his plans to handle May Day marches and possible anti-capitalist protesters.

According to the Seattle Times, Bailey plans to put in place the same directive as last year -- allow for peaceful protests but be prepared to arrest those who commit crimes.

And of course, Seattle is no stranger to May Day protests. A group of unwieldy anarchists wreaked havoc on May 1, 2012, destroying windows and vandalizing cars in the downtown business district, leading to year-long investigations and a string of arrests and federal prosecutions.

The 2013 protests were much calmer, but not without incident, as 17 protesters were arrested for a variety of offenses, including officer obstruction and resisting arrest.

City officials and police largely received praise for their handling of the protests 2013. However, this year's nice weather could bring many more to the city, some with a propensity for violence.

Officials are already monitoring at least three planned events around town. They are:

The 14th Annual May Day March For Immigrant and Workers Rights

--Typically the largest event for Seattle's May Day. Thousands of marchers are expected to meet at 3 p.m. at St. Mary's Church (611 20th Avenue South) and end at Westlake Park to listen to speakers. This event is meant to draw recognition and dialogue to the plight of immigrants' rights.

Anti-Capitalist March at Seattle Central Community College 

-- This march against the "capitalist police state" and "continuing pillage of civil liberties" is slated to begin at 6 p.m. at SCCC, the group's Facebook site says. Specific plans for the march were not released, but the group was largely expected to march from SCCC to downtown.

Anti-Capitalist event at the King County Juvenile Detention 

-- Little is known about this event -- including if it is permitted or not. But various Internet sites say an event at the Juvenile Detention Center is planned for 6:30 p.m. Images of protesters throwing rocks at the event allude to potential violence and disruption.

The planned protests also come just days after Saturday night's rally against the rideshare company Uber. The group has hinted that more actions against Uber are planned, with the statement "Happy May Day, Champ!" posted on their website.

The city is prepared to use pepper spray and blast balls if any of the marches get out of hand, the Seattle Times reported. The police department's Force Investigation Team will be on hand to investigate force that might arise.