Police: Mom praised for saving son from home explosion admitted to setting the fire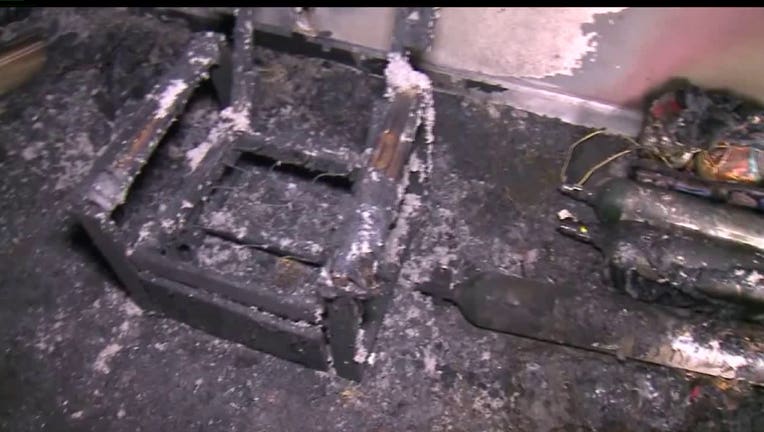 article


TACOMA -- A Puyallup mom who firefighters called a 'Superwoman' for saving her son from a house explosion earlier this month has been arrested for allegedly setting the fire.

Pierce County sheriff's spokesman Ed Troyer said Thursday that Melinda 'Mindie' Sayers confessed to the crime during an interview with detectives and she was arrested.

Sayers appeared in court Friday and pleaded not guilty to first-degree arson. She was being held in lieu of $200,000 bail.

The Pierce County Prosecutor's Office said she also presented false insurance claims and collected insurance money after he allegedly burned her home.

Her story tugged at many hearts, leading to thousand of dollars in public donations to her and her family.

But the Pierce County Sheriff's Department said the community, the media and even investigators were duped by Sayers.



Earlier this month, Sayers described how she and her 2-year-old son escaped from a fire just seconds before oxygen tanks exploded in their home.

"This window right here, I opened it up, kicked the screen out, put him out, threw my cell phone and jumped out the window. Two seconds later, there was a huge explosion," Sayers said of the April 1 explosion.

She said a leaking oxygen tank caused the fire, ruining most of their belonging,s including the nursery set up for their baby girl Abigail, who was born three months premature and hospitalized with a severe brain injury.

"Now we have nowhere to live. We have nothing for her (Abigail when she is released from hospital). You know, it's really hard," Sayers said.

Troyer said that wasn't true.

"She did admit that she started the fire by lighting a candle and opening up the oxygen and lighting the furniture on fire, which fueled it really quickly," Troyer said.

The oxygen tanks were set up for Abigail. After months at the hospital, Abigail was scheduled to come home but police say the mother was overwhelmed.

"The reason that she gives is that she was busy, did not have time, or the desire, to take care of the kid," Troyer said. "When you eliminate the place where your child is going to go, you eliminate the problem."

But the baby never made it home. Shortly after the fire, Abigail died at the hospital. The family's heart-wrenching situation had people opening up their wallets. One fundraising website had already raised more than $32,000 for the family.

Troyer said that money will be seized as they continue to investigate the defendant's past.

"Finding out she has a past fraud, and an RN (registered nurse) and never told anybody and she is well versed in medical gear," Troyer said.

In 2013 the nursing commission charged Sayers with unprofessional conduct. She was accused of falsifying patient records and filling prescriptions for herself without a physician's approval.

Investigators say Sayers' husband, Chris Sayer,s had no involvement in case.

Family members told Q13 FOX News on Thursday that they are standing behind the defendant and don't believe she set the fire.