Police kill intruder who stabbed student in NY synagogue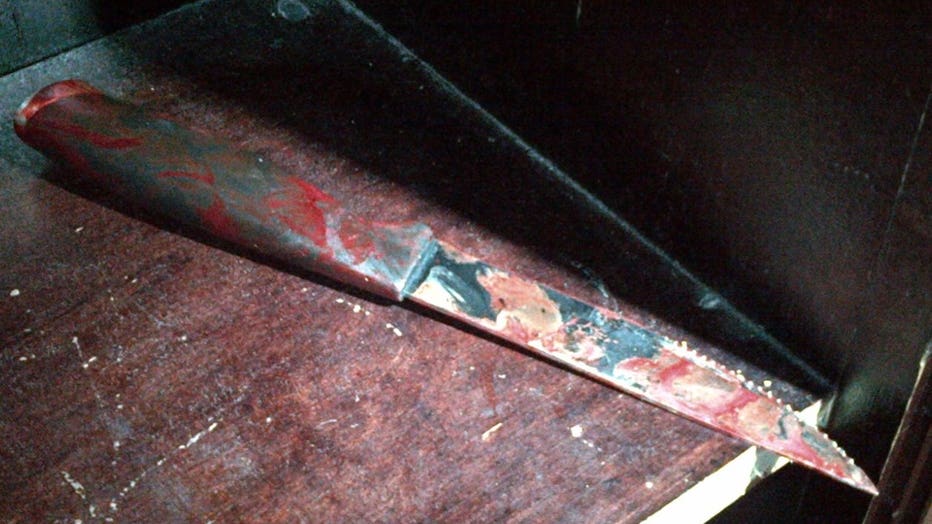 New York A man stabbed a student at a Brooklyn synagogue early Tuesday morning before he was fatally shot by an officer he lunged at, police said.Credit: DCPI/WPIX


BROOKLYN, New York (CNN) -- It should have been a peaceful, contemplative night for Levi Rosenblatt, studying the Torah inside a Brooklyn synagogue.

But that peace was shattered when an intruder came into the Chabad-Lubavitch World Headquarters, stabbing Rosenblatt on the left side of his head.

There would be no other victims, however. New York police officers quickly arrived at the scene and -- after a verbal back-and-forth captured on video -- shot and killed the attacker.

Hours later, Rosenblatt -- the 22-year-old student from Israel -- was in stable condition at Brooklyn's Kings County Hospital.

And authorities were trying to piece together what happened and why.

At a brief news conference Tuesday, the NYPD's John Miller described what happened as an "isolated incident" carried out by a 49-year-old man well known to police.

"At this point, (this) appears to involve an individual who ... has a history of being an emotionally disturbed person and acting out in other places," Miller said.

Jews in the United States and elsewhere -- including Israel, the site of several recent stabbings -- have been targeted before. But police have not labeled this specific incident as a hate crime.

Rabbi Motti Seligson, a spokesman for the Chabad-Lubavitch movement, said that, "According to witnesses, (the attacker) was overheard saying repeatedly, 'Kill the Jews' or something to that effect."

Asked about such reports, Patrick Conry -- who oversees police detectives in Brooklyn -- did not say whether or not the attacker called out anyone specifically because of their religion.

"He may have said words to the effect of, 'I will kill all of you,'" Conry said. "We're still interviewing witnesses."

Studying at prominent Jewish center

Describing itself as "a philosophy, a movement and an organization," Chabad-Lubavitch dates back 250 years to Russia. It has since evolved into one of the most high-profile educational, outreach and community arms of Orthodox Judaism, operating hundreds of centers worldwide, including more than 1,000 in the United States alone.

Its headquarters in Brooklyn's Crown Heights neighborhood lies at the center of it all.

That's where Rosenblatt was around 1:30 a.m. Tuesday, studying the Torah in a synagogue that's part of Chabad-Lubavitch World Headquarters.

The circumstances of how the Israeli student was stabbed -- such as whether he was caught unaware or if words were exchanged -- weren't immediately known.

But New York police did say that one of their officers, stationed at a nearby command post, heard of the attack and quickly responded.

He found the suspect holding a 9-inch knife with a 4½-inch blade.

Yelling, then a single gunshot

A cell phone video captured what happened next.

"Throw it, just throw it," an officer says, before urging the attacker to step away from the tossed knife and put his hands up.

The 49-year-old initially complies, then slowly walks back toward the knife.

"Whoa, whoa, whoa!" someone yells out.

The officer yells out again, "Stay away from me" -- but it doesn't stop the man from lunging for, and picking up, the knife he'd briefly dropped.

The man then starts running toward police, saying, "Are you going to arrest me?"

Police officers -- as, by then, there were several at the scene -- can be heard yelling as well. "Drop the (expletive) knife! Drop the (expletive) knife!"

Then comes a gunshot.

Police keep up, pointing guns toward the now-downed man and telling him to drop the knife and not to move.

"Stay down! Stay down!" one officer yells.

Increased police presence at 'houses of worship'

The 49-year-old was shot in the torso, according to police.

Officers continued to tell him not to move as they handcuffed him in between the synagogue's books and desks.

An ambulance took him to Kings County Hospital, where he was later pronounced dead.

The officer who shot him and two other officers were sent to Brooklyn's Methodist Hospital for treatment of tinnitus, which is a noise or ringing in the ears.

No one is saying this attack is part of any larger plot. Still, given that the news may cause concerns at "houses of worship around the city, our critical incident response vehicles ... will focus on religious institutions in part today," the NYPD's Miller said.

"So you will see some enhanced coverage in terms of police presence at locations," Miller added. "But I want to underline that is to really address those concerns while we sort through the details here, not to suggest that ... this had any connection to anything other than this individual and his problems at this time."




CNN's Tina Burnside in Atlanta and Amir Tal in Jerusalem contributed to this report.