Police gearing up for May Day protests in case of violence again
SEATTLE -- Seattle police said Wednesday they are preparing for May Day demonstrations, with the hope that protests don't turn violent again for the third consecutive year.

Last year, the day started with thousands marching peacefully for immigrants and workers' rights, but by nightfall it escalated into violence. Some trouble-makers who called themselves 'anarchists' disrupted May Day protests by trying to damage storefronts and attacking police. SPD says it was able to quash much of that while making 17 arrests.

The city is hoping to avoid a repeat of the violence this year but they're ready if it happens.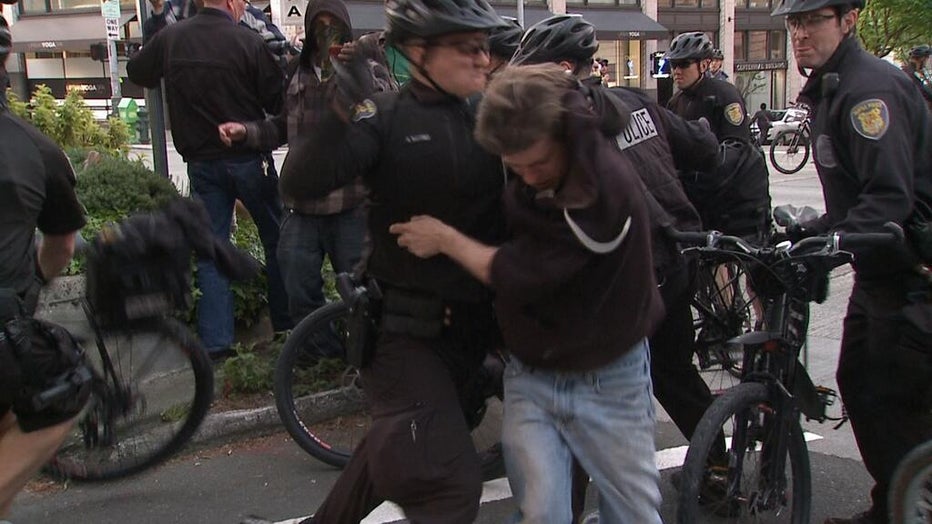 Seattle police move in to arrest a man during a May Day altercation in 2013. (Photo: KCPQ-TV)


"We don't expect perfection; we just expect a strive for perfection," said Seattle City Councilman Bruce Harrell, chairman of the council's Public Safety Committee.

Harrell said protesters have the freedom to exercise their First Amendment rights but police also have the right to protect themselves and the public.

The SPD's Chris Fowler will be the incident commander again this year.

He said his officers will be allowed to use flash bangs to control rioters in worst-case scenarios, but he will have to give permission before any weapons are used against the crowd in a large-scale operation.

"Once crimes are committed, either crimes of violence or excessive property damage, we will make individual arrests if we can," Fowler said.

Interim Police Chief Harry Bailey said communication within the department will be smoother this year. He also talked to the legal department after concerns about excessive use of force sparked federal oversight.

"I think we are accustomed to what is expected of us from the settlement agreement (with the U.S. Justice Department) and we have incorporated that into the plans this year," Bailey said.

But police aren't the only ones preparing.

Posters are now on the Web alluding to violence once again.

Pugetsoundanarchist.org is calling for people to gather on May 1 not too far from businesses that were vandalized last year.

Nearby business owners hope police step in before protests get out of hand.

"You got to do something. You can only push back so much. If they are breaking things, you have to shock them a little bit, too," Kaladi Brothers Coffee manager Jeremiah Skalisky said.

Police are reaching out to businesses, telling them to be ready in case things get bad.