Police, federal agents shut down 3 Tukwila motels


TUKWILA -- Neighbors say it's been like living in a neighborhood under siege.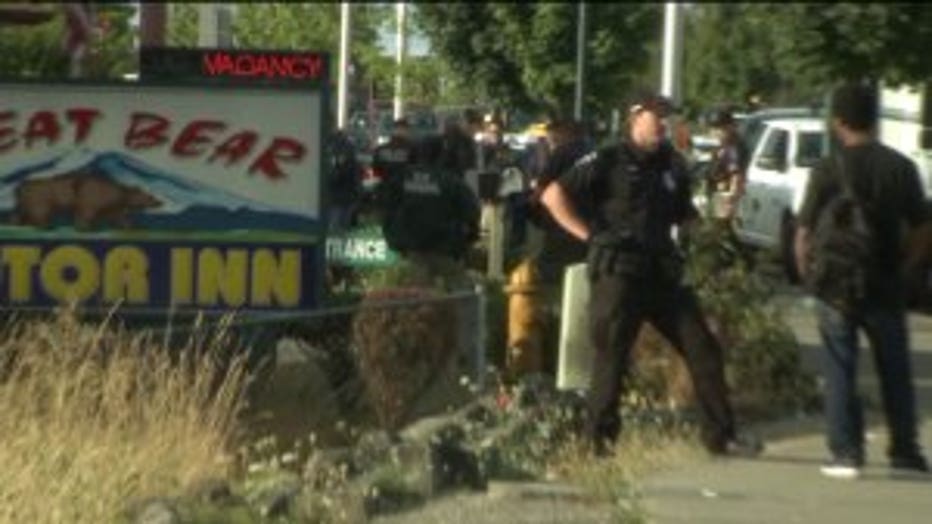 For years, neighbors say, they have seen the problems only get worse and, at the center of it all -- three motels.

The Travelers Choice Motel, The Boulevard Motel and The Great Bear Motor Inn.

"There are police coming in and out of here two or three times a day, depending on which motel is having the most action. It's a lot of drug activity, crack cocaine, bad people. Even going to the gas station, they try to get money from you for drugs. The whole area is terrible," neighbor Wayne Dervin said.

Tukwila police knew there was a problem, too, so after a yearlong, multiagency, undercover investigation Tukwila police, along with Seattle police, King County Sheriff's Office and the U.S. Alcohol, Tobacco and Firearms, they moved in with 400 officers and a SWAT team to put an end to the problem once and for all.

"By closing these motels, we have sent a clear signal," U.S. Attorney Jenny Durkan said at a news conference later. "Owners of motels who operate them in criminal fashion and seek to profit from that crime, there is a consequence."

Tukwila police has spent years trying to work with the motel owners to help them rid their property of criminal activity.

Those efforts failed.

"The investigation led to knowledge that the owners were a part of it, which is why efforts by the city have failed," Tukwila Police Department spokesman Eric Drever said.

Three people believed to be the owners of the motels were arrested.

Police say in 2011 and 2012 the three properties accounted for 17% of all police call-outs in the city of Tukwila; prostitution, drug trafficking, stolen property and assaults.

Unfortunately, there were some honest, law-abiding people living in the motels who have been displaced by the raid.

"I think the owner of these motels ought to be held responsible for all this. The people that are legit that are living in these places, they need to be reimbursed.  They're being kicked out," Dervin said.

Social service agencies were on hand to help them move out and relocate.

They're the only losers in an operation that's left most people feeling like winners.

Durkan said letters are about to go out to the owners of similar establishments, giving them the opportunity to clean up their act or meet the same fate.