Police, federal agents arrest 12, seize date-rape drug, other narcotics at Seattle nightclub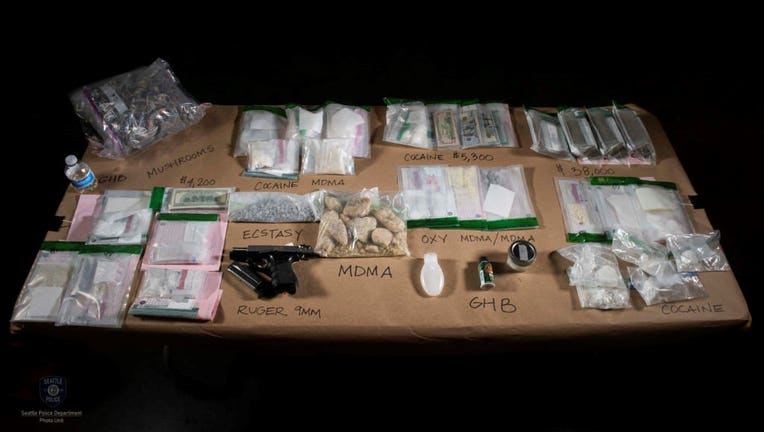 SEATTLE -- Seattle police and federal agents arrested 12 people and seized narcotics and guns at a Belltown nightclub where police say a dealer coached an undercover officer on how to use the date-rape drug GHB on women, the Seattle Police Department said Thursday.

Officials began investigating the Foundation Nightclub at 2218 Western Ave. in March after receiving reports of drug trafficking inside the club and concerns about sexual assaults associated with drugs like GHB, Seattle Police said in a news release.

In a series of undercover operations, undercover police officers bought cocaine, meth, MDMA and GHB inside or near the club, police said.

"All of the drugs were either purchased from employees at the club, including security, or facilitated by employees or managers of Foundation, who introduced undercover officers to dealers," the news release said.

Officers learned that the Foundation Nightclub had several "in-house drug dealers" who were allowed to sell inside the nightclub.

"Management was aware of the drug dealing, and one dealer even bragged about knowing the owner, and later explained to an undercover officer how much GHB to use to dose women, depending on their weight," police said.

On Wednesday, Seattle police officers and agents with the U.S. Homeland Security Investigations seized 829 grams of cocaine, more than 1,000 grams of MDMA, 400 ecstasy pills, 800 Xanax pills, 190 grams of ketamine, 13 grams of DMT, 176 grams of GHB, 1,200 Molly capsules, additional prescription drugs, along with two handguns and more than $60,000 in cash.

The Washington State Liquor and Cannabis Board issued an emergency suspension of the club's liquor license.

Detectives are continuing to search for additional suspects, the news release said.